Denver Health Celebrates First Anniversary of Sloan's Lake Primary Care Center
October 21, 2021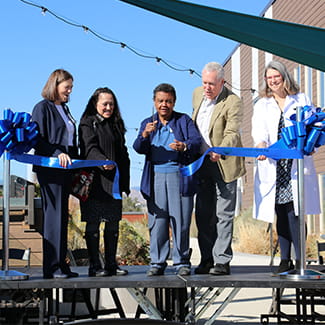 Denver Health's newest community health center continues successfully helping patients of all ages receive the primary and specialty care they need, despite opening at a tough time – during the height of the COVID-19 pandemic. On October 11, leaders from Denver Health, the Denver Housing Authority (DHA) and the city of Denver gathered at the
Sloan's Lake Primary Care Center
to celebrate a successful first year treating patients.
Located right on West Colfax at Raleigh Street, on the first floor of a new DHA building, Sloan's Lake Primary Care Center is Denver Health's 10th Community Health Center in the city and has already treated more than 4,000 patients – ranging in age from newborn babies to seniors. The Sloan's Lake Primary Care Center has also given more than 3,500 COVID-19 vaccines to patients, including food service workers along the West Colfax Business District. Its location within that DHA building provides easy access to health care and services to a traditionally underserved community – a key part of
Denver Health's mission
.
"Thinking about how we can meet the needs of vulnerable populations is the mission of Denver Health and the Sloan's Lake Primary Care Center is an opportunity for us to live our anchor mission," Denver Health Chief Executive Officer
Robin Wittenstein
said at the ceremony, held on the rooftop of the DHA building. "We hire, we buy and we invest and serve locally."
"We've worked really hard to serve our community," added Sloan's Lake Primary Care Center Medical Director Jeanne Rozwadowski.
"We are thrilled to be able to provide full spectrum primary care and mental health services to the communities around West Colfax and our partnership with the Denver Housing Authority that made this possible," said Denver Health Chief Ambulatory Officer Simon Hambidge.
A special guest at the ceremony was Denver City Council Member-at-Large
Debbie Ortega
, who took advantage of a flu shot clinic being offered and got her flu shot right at Sloan's Lake after the ceremony. Ortega told the crowd she was impressed by the vast array of services offered to patients, filling a real need in a fast-growing part of the city. "I just want to say congratulations to Denver Health and to Denver Housing Authority for making this site become a reality for the community," Ortega said.
The event ended with a ribbon cutting, which was delayed a full year because of the coronavirus pandemic.
Denver Health Community Health Services Board Chair Carol Lewis
did the honors cutting the ribbon. The ribbon cutting was followed by refreshments and tours of the clinic led by clinic leadership. COVID-19 and flu shots were also available to all guests who wanted to get one that day.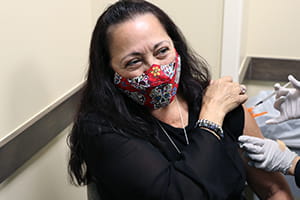 For more information on the Sloan's Lake Primary Care Center or to make an appointment, visit
DenverHealth.org/SLPCC
.