Denver Health Closing the Gap on Health Disparities Among Patients
July 21, 2022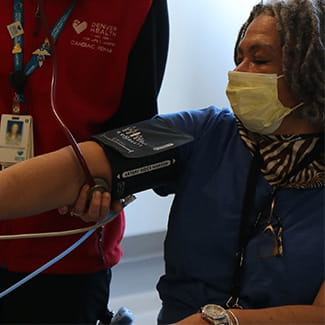 Positive Results After One Year of Race, Ethnicity and Language Method (We Ask Because We Care)
Denver Health is seeing the benefits of a one-year-old program to better collect information from our patients. In April of 2021, we launched the Race, Ethnicity and Language Method, or REAL for short, throughout the hospital system, which includes special training for registration staff on how to sensitively ask patients questions about their racial and ethnic backgrounds. The goal of the program is to better identify our patients and understand areas where health disparities are happening, so that we can make changes – such as adding more Spanish language interpreters at a particular clinic – and improve the health of all our patients.
One example is at the Wellington E. Webb Center for Primary Care, where a pilot project started in February, focusing on improving hypertension control (or high blood pressure) in our Black patients. Historically, Black people with hypertension have poorer blood pressure control in comparison with other populations. Denver Health's population health team is a Centralized Virtual Care team that identifies and works with priority populations to improve clinical health outcomes. Using information about these patients' backgrounds that was gathered through REAL, members of the population health team reached out to about 300 Black patients with uncontrolled hypertension and within five months, we were able to significantly improve blood pressure control rates within the group and close the gap between these patients compared to that clinic's White Non-Hispanic patients. The outreach included providing the patients home blood pressure cuffs, telehealth visits, medication review, medication recommendations and follow-up with patients who were overdue for their primary care appointments. The goal is to see similar results across all of Denver Health's Community Health Centers.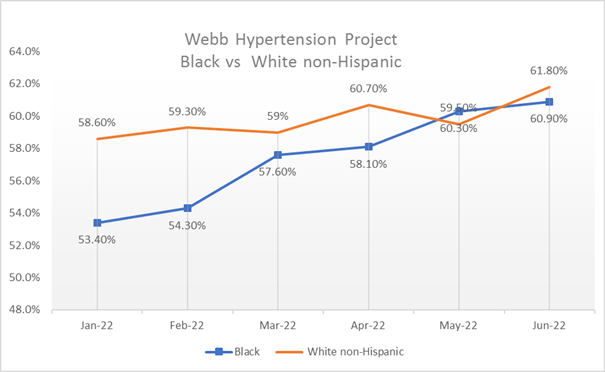 Another effort is underway to eliminate health disparities between White Non-Hispanic, Hispanic and Black pregnant patients who enter prenatal care.

"Accurate data helps us to identify populations at higher risk and apply specific interventions to those populations," according to Maria Casaverde Marin, operations coordinator with Denver Health's Community Health Services.

Collecting information about race and ethnicity at a medical office is nothing new, but Casaverde Marin said REAL provides a better and more accurate way to collect it. Among the trainings that registration staff received are a special script to read to patients on how to pose these informational questions in a sensitive way. It was developed through "transcreation" in different languages so that nothing is lost in translation. For example, some patients may not have a good understanding about what is being asked of them when it comes to their race or ethnicity, so instead the question is posed as, "where is your family from?"

Denver Health now has more than 300 options to choose from when it comes to ethnic background, and since the launch of the REAL program, we have identified patients from 284 different ethnic backgrounds. Before REAL, more than 27 percent of patients did not give information about their country of birth; now that number is down to less than 10 percent and Denver Health has identified patients from countries we didn't know about in the past. The number of patients who did not disclose their racial or ethnic backgrounds at check-in has also dropped from eight percent to around just one percent now.

Casaverde Marin said that overall patients are feeling more comfortable about sharing their information and now have a better understanding of what is being asked of them. Add to that the better levels of care they are now receiving, and we can safely say that the first year of REAL has been a big success.

To schedule an appointment at Denver Health, call 303-436-4949 or use the free MyChart app.