New Pharmacy Lockers: Safe, Secure and Saves Time
July 05, 2022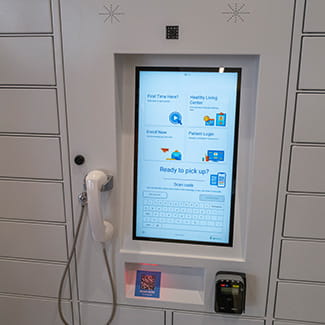 Denver Health is excited to open up three new automated, contactless Prescription Pharmacy Lockers to all patients. Two of the lockers are at the
Outpatient Medical Center Pharmacy (Pavilion L)
and the third is at the
Webb Center for Primary Care Pharmacy (Pavilion G)
. The new, free-of-charge convenience allows patients to save time by skipping the pharmacy line, and retrieve their medications from a secured and safe locker – by simply scanning a code or entering a numeric number given to them.
"You can access the lockers at any time the buildings are open, even if the pharmacy is closed," explained Denver Health certified pharmacy technician Maria Schessler.
Most medications that we stock at our pharmacy, including refrigerated medications, can be dispensed through the prescription pickup lockers. For more information contact a pharmacist at
303-602-7966
.
Sign up to use the new Pharmacy Lockers by filling out this consent form
.
Once you are signed up, when your prescription is ready to be picked up at the locker, you will receive an email with a QR code and text message with the unique numeric code. Go to the lockers' touchscreen and then scan the QR code or enter the numeric number. Enter your date of birth and pay for your medications using a credit card, debit card or mobile pay. A camera records all transactions for your safety and security. Please close the door after picking up your prescriptions.
During regular business hours, a pharmacist will be available to assist you with any questions you may have.
The Pharmacy Lockers at the Outpatient Medical Center Pharmacy are open from 7 a.m. - 8 p.m., seven days a week. The Lockers at the Webb building are open from 8:30 a.m. - 6 p.m., Monday - Friday.
"We are happy to offer this free pharmacy service to you here at Denver Health," said Schessler.