Denver Health breast cancer team offers top-notch, tailored care to patients
October 27, 2022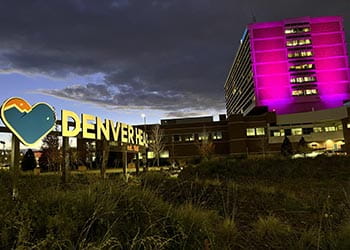 It's the last week of Breast Cancer Awareness Month, and Denver Health would like to highlight the excellent care that a patient diagnosed with breast cancer would receive.
Initial steps after detection
If the breast imaging team at Denver Health detects cancer after a mammography, the patient is then referred to a multidisciplinary team who will determine next steps.
The multidisciplinary breast cancer team consists of specialists in medical oncology, breast surgery, pathology, radiology and radiation oncology. This team meets weekly at the Denver Health breast cancer tumor board to review every case and come up with the best treatment plan. The patient will then meet with the different members of this team and have the opportunity to be connected to other team members who may be needed to support the patient, such as a social worker or psychologist.
The breast cancer team stresses that each patient gets a plan tailored to individual needs.
"We take pride in truly personalized medicine," said medical oncologist Dr. Sonia Okuyama. "Treatment is not only tailored to the specific biology and molecular markers of the cancer, but to the person who is experiencing this diagnosis in front of us.
"Are there any work or child care issues? Are there transportation or language barriers? Breast cancer treatment can be quite involved, and we really try to meet a person where they are and come up with the best treatment."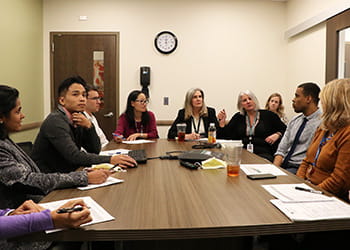 Treating the patient
For patients with breast cancer, Denver Health offers breast cancer surgery, breast reconstruction surgery, chemotherapy, targeted therapy, immunotherapy, and advanced interventional radiology procedures. Radiation is offered via a close partnership with Saint Joseph Hospital.
Our team of top-notch surgeons use the latest technology to help a patient feel as whole as possible following surgery. In many cases, the look of the breast and the sensation of the nipple can be maintained, thanks to the enhanced techniques used by our surgeons.
"My big thing is I don't want them to get up every morning and look in the mirror and be reminded they had breast cancer," said breast surgical oncologist Dr. Nancy Taft. "How we approach their surgery is a big part of it."
Dr. Okuyama added: "We want to make sure that when these women come out on the other side of the cancer treatment experience, they're thriving."
If chemotherapy is needed, patients can receive treatment in Denver Health's state-of-the-art Infusion Center, located on the fourth floor of the Outpatient Medical Center, which opened in 2021.
Recovery
Dr. Taft said preparation for the recovery process often begins before surgery. The team works with patients on nutrition and how to get their bodies ready for surgery and the recovery process.
The timeline of recovery for each patient varies, but Dr. Taft said she usually tells chemotherapy patients to expect a year of recovery therapies, which may include physical therapy and training exercises.
Denver Health staff will continue to check in on patients and how they're doing and what they need in the months following surgery.
"We have a committed team to get them through (recovery)," Dr. Taft said. "It's not just one of us; it's all of us."
Make a mammography appointment
Appointments for breast cancer screenings at Denver Health are available within a week, with scheduling available up to 60 days out. Denver Health patients can make an appointment through their MyChart accounts or by calling 303-602-4140.
Pavilion A on the hospital's main campus will be lit up in pink through the end of October to recognize Breast Cancer Awareness Month. Also, the Good Day Cafe in the basement of Pavilion A is selling heart-shaped pink and blue cookies at a discounted price of $1 to build awareness about the importance of breast cancer screenings.