Denver Health Encourages Mammogram Screenings for Breast Cancer Awareness Month
October 12, 2022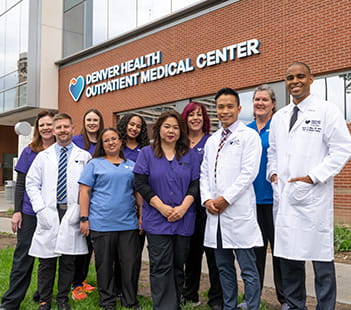 We're in the heart of Breast Cancer Awareness Month, and the breast imaging team at Denver Health continues to urge people to schedule a mammogram appointment.
"Mammograms save lives," said Dr. Randy Miles, chief of breast imaging at Denver Health. "If you develop breast cancer, and we catch it early and treat it appropriately before it spreads to other parts of the body, the five-year survival rate approaches 100 percent."
How to schedule your mammogram appointment
Appointments for breast cancer screenings at Denver Health are available within a week, with scheduling available up to 60 days out. Denver Health patients can make an appointment through their MyChart accounts or by calling the mammogram hotline at 303-602-4140.
Breast Imaging at Denver Health has fellowship-trained doctors and offers the full spectrum of imaging techniques for detecting and diagnosing breast cancer, using the latest equipment in our state-of-the-art Outpatient Medical Center, which opened in 2021. For patients with breast cancer, Denver Health offers breast cancer surgery (oncology) and breast reconstruction surgery.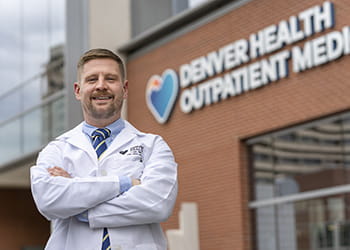 A patient-centric approach to breast cancer treatment and detection
About one in eight women will develop breast cancer, making it the second most common cancer in women in the U.S., behind skin cancer.
Longtime Denver Health patient Patrice Branch recently had her annual screening, where a small cancer was identified in her breast by the breast imaging team here. Branch, who said she has lost family members to cancer, had a successful surgery and is expected to make a full recovery.
Some on the breast imaging team also have had family members with breast cancer.
Breast imaging supervisor Susan Harrison, who has worked at Denver Health for 28 years, lost a family member in 2014.
"That made me more passionate about not waiting (to get screened)," she said. "It's not going to prevent you from getting breast cancer, but it will detect it while it's still early and curable."
Harrison said she has seen countless cases at Denver Health of cancer being detected early because of annual screenings. She's also seen too many unfortunate cases of women waiting years between screenings who have developed a large mass that could have been prevented with more routine screening. Women 40 years old and above who have not had a screening mammogram within the past year are eligible to be seen in our breast imaging center for routine screening but should talk to their primary care doctor about their risk factors and participate in shared-decision making about the best screening regimen for them.
"When we have a patient in our department, that is the most important person in my world at that moment," Harrison said. "No matter what their walk of life, they are treated with dignity and respect and have the best possible health care given to them."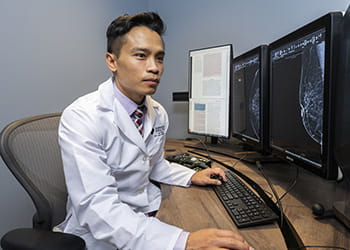 A team that cares
Breast radiologist Dr. Nhat-Tuan Tran got into the field after helping a family member go through the process of getting a mammogram, which led to the early detection of cancer that could be treated.
"A lot of things led me to this path, including my relative going through this," Tran said. "Breast imaging allows you to impact someone's life so much."
Breast radiologist Dr. Christopher Doyle said he hopes to spread the same message as his colleagues during Breast Cancer Awareness Month: "It can save your life."
"Early detection is key to long-term survival," he said, adding that all women by age 30 should have a risk assessment with their primary care physician..
Fast and Easy Services
Though less common, men can develop breast cancer, and Denver Health recommends they discuss risk factors with a physician as well.
"We are very good at taking care of a diverse population, and we do a darn good job of it," Doyle said.
Even Denver Health CEO Donna Lynne got her annual screening this month and allowed camera crews to tag along to raise awareness about the importance of annual screenings.
"We want to make sure people are taking advantage of great mammography services here at Denver Health," she said. "It was so fast, and it was easy."
All breast radiologists at Denver Health have received additional breast imaging fellowship training; the group has demonstrated superior quality metrics related to cancer detection that are well above the national average.