National Nutrition Month Spotlight on Registered Dietitians and Diet Technicians
March 08, 2023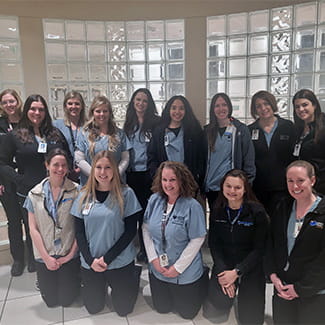 March is National Nutrition Month and as we celebrate this year's theme "Fuel for the Future," we want to put a spotlight on Denver Health's team of registered dietitians and registered diet technicians who help our patients change their lives by focusing on healthy eating.
The Denver Health Nutrition Team specializes in areas including inpatient care; the
Bariatric Surgery Center
; Healthy Lifestyle Program through
Primary Care
;
ACUTE Center for Eating Disorders at Denver Health
;
Outpatient Pediatric Nutrition Clinic
; and
Women, Infants and Children Program (WIC)
. The team conducts more than 1,400 patient visits a month. They are experts in diagnosing and treating adult and pediatric malnutrition and specialize in the areas of Medical Nutrition Therapy, Eating Disorders, Bariatric Weight Loss Surgery, Nutrition Support and Therapeutic Diet Education.
Patient Tori Muldovan came to Denver Health for Bariatric Surgery and worked with Registered Dietitian Tara Gray before and after her surgery. She credits Gray for helping her achieve a better life.
"Bariatric surgery through Denver Health has given me my life back," Muldovan said. "It helped me quit smoking and gave me the energy to be able to be the best mom I can be. Tara has helped me every step of the way through the good and bad times of this journey. Because of her, I found a better relationship with food and my new body."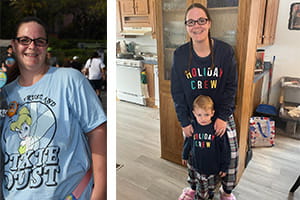 Muldovan weighed 240 pounds before her surgery and now one year later is maintaining a weight of 175 pounds.
Another patient who only wanted to be identified as "SPF" was admitted to Denver Health with severe malnutrition, several vitamin and mineral deficiencies and developed serious bodily injuries. Over two and a half months, the Denver Health Nutrition Team helped the patient recover, bringing him from tube feeding back to feeding himself again. He regained muscle mass, recovered from his injuries and when he left Denver Health, was no longer malnourished, was free from those vitamin and mineral deficiencies and increased his body mass index to a healthier level.
Registered Dietitians and Registered Diet Technicians have four-year degrees that include specially designed, accredited nutrition curriculums. They must complete an extensive supervised program of practice at a health care facility, foodservice organization or community agency. They pass a rigorous registration exam and must maintain continuing education credits throughout their career.
Roughly half of all Registered Dietitians hold graduate degrees and many have certifications in specialized fields. Many of the Registered Dietitians at Denver Health have obtained one of following certifications: Clinical Nutrition Support Clinician (CNSC), Certified Eating Disorder Dietitian (CEDRD), Certified Specialist in Oncology Nutrition (CSO), Certified Lactation Counselor (CLC), Certified Diabetes Care and Education Specialist (CDCES) and Certified Specialist in Pediatric Nutrition (CSP).
Denver Health patients should ask their Primary Care Provider if they are interested in seeing a registered dietitian.