Contact Us
Phone: 303-602-1756
Fax: 303-602-6234
Get Started by Watching Our Informational Video
This is the first step in the bariatric surgery process. Please click this link to watch a video to learn about our Bariatric Surgery Center. After watching the video, you will fill out a form below the video with your contact information that says that you are interested in moving forward in the program. This form will be sent to the bariatric coordinator. You must watch the video before filling out the form. You will then receive a call to talk about starting the bariatric process.
Denver Health offers two types of Bariatric surgeries:
Roux-en-Y gastric bypass is the most common surgery, where the surgeon creates a smaller stomach pouch that attaches directly to the small intestine, restricting the amount of food you can eat (and bypassing parts of the intestine through a process called malabsorption). You retain the rest of your stomach and it is still involved in digestion.
Sleeve gastrectomy is when the surgeon creates a smaller, sleeve-like pouch is created and removes the rest of your stomach. There is no change in how the smaller stomach is attached to the small intestines.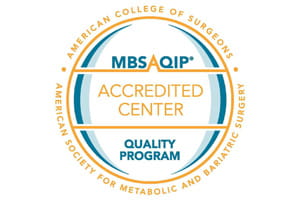 Denver Health Bariatric Surgery patients can pay for their surgery several ways:
Most commercial insurance covers bariatric surgery.
There are cash/self-pay options available.
Financial assistance is available to those who qualify.
Visit our payment options page for more information.
About the Denver Health Bariatric Surgery Center
The Denver Health Bariatric Surgery Center is the only Metabolic and Bariatric Surgery Accreditation and Quality Improvement Program (MBSAQIP)-certified hospital in Denver for both adolescents (age 16-20) and adults (age 21-65). Weight-loss surgery, called bariatric surgery, is used to help severely obese patients — patients with a body mass index of 40-65 kg/m2 (or a body mass index of 35 kg/m2 and one or more obesity-related health problems) — lose weight and regain their health.
Denver Health, the hospital you know and trust, has an experienced team of weight-loss experts who provide an individualized experience that leads to long-term weight-loss success.
Our program is multidisciplinary, offering a comprehensive team approach. All pre-op appointments are done at Denver Health; we do not outsource any of the pre-op requirements. Post-op, you will see your surgeon, surgery physician assistant, psychologist and nutritionist together at your appointments.
All appointments take place on the fifth floor of the state-of-the-art Outpatient Medical Center – including all pre- and post-op surgical appointments, and all appointments with your psychologist and nutritionist. Some appointments may be available through telehealth – please talk with your provider about availability.
BMI Calculator
To calculate your body mass index (BMI) to determine if you are a candidate for bariatric or weight-loss surgery at Denver Health (BMI of 40-65 kg/m2 or a body mass index of 35 kg/m2 and one or more obesity-related problems) please use this calculator from the Centers for Disease Control and Prevention (opens new window).
Discover a New Life!
Weight-loss surgery can change your life. Imagine being able to keep up with your kids, take less medication, breathe without wheezing, and improve your health altogether.
Watch this video to get started.
Support Groups
Support groups will resume as virtual meetings via WebEx. At this time we are not having in-person groups. Once you are active in the program, you will be set up to receive the monthly email links to join the support groups.
Learn more about upcoming meetings here.
Additional Information about
Bariatric Surgery