The Denver Health Bariatric Surgery Center is here to help you today. Weight-loss surgery, called bariatric surgery, is used to help severely obese patients — patients weighing more than 100 pounds over their ideal body weight — lose weight and regain their health.
Denver Health, the hospital you know and trust, has an experienced team of weight-loss experts who provide an individualized experience that leads to long-term weight-loss success.
Discover a New Life!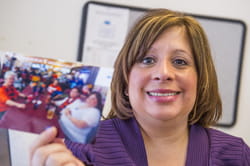 Weight-loss surgery can change your life. Imagine being able to keep up with your kids, take less medication, breathe without wheezing, and improve your health altogether. Start working toward bariatric surgery today!