Breast Imaging patient navigator helps people get same-day biopsies
June 20, 2023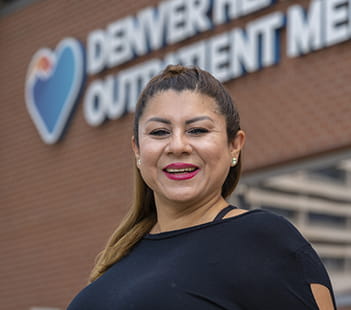 As part of an ongoing series featuring the incredible staff and various departments at Denver Health, this week we're spotlighting the Breast Imaging/Mammography Department.
Denver Health is committed to providing world-class breast cancer care, including same-day biopsies, as part of a comprehensive approach to support the well-being of our patients.
A recent addition to the Breast Imaging team is Alma Mendez, a patient care navigator who completed her ninth year at Denver Health in February.
Patient navigators help people get the health care and resources they need by working with their families and caregivers to overcome barriers to cancer screening, diagnosis, care and resources after treatment. Care navigators like Mendez build relationships with patients to support and educate them as they navigate our health care system, verifying appointments. They help with translation, access to insurance, poor health literacy, transportation and so much more.
When not at work, Mendez likes to travel, dance, paint or go to the movies. She enjoys a book club and spending time with family and friends, and especially her Shih Tzu of 13 years, named Papi Chulo.
Before joining the Mammography team, she started at Denver Health as a bilingual patient access specialist for a year and then became an enrollment specialist for seven years for school-based and family health centers. Mendez decided to join the Mammography team after her sister Lety was diagnosed with breast cancer two years ago. It was shocking, she said, because the family had no history of cancer for at least three generations.
"I have the great blessing of having a very close family, and we have been supporting my sister anyway we can," she said. "And when I saw this position, I thought it would be a great opportunity for me to learn more about my sister's disease."
Her sister's diagnosis was "devastating" for her family, Mendez said. Lety, who is receiving care outside of Denver Health, has stage 4 cancer and has been feeling very sick and weak for the past five months.
Another one of Mendez's sisters, Laura (pictured at left), recently shaved her head along with Lety (pictured at right), who was losing her hair from chemotherapy treatments.
But the experience continues to drive Mendez to do the best job she can to help Denver Health patients and their families, who are going through similar journeys.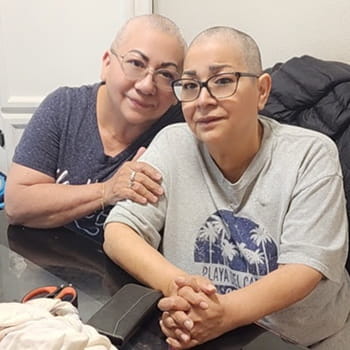 Same-day biopsies
One of the ways Denver Health brings convenience to care is through the Same Day Breast Biopsy Program, which is made possible, in part, because of the addition of Mendez.
"The same-day biopsy program has helped many of our patients not delay their care," said diagnostic radiology physician Nhat Tuan Tran, MD. "Since they already have time off for the diagnostic work up, it frees up an additional day that they need to coordinate time off from work or for family responsibilities."
Once a patient gets a diagnostic mammogram at Denver Health, the patient will find out at the same visit whether a biopsy is recommended. In most cases, the clinic will be able to schedule a biopsy for the same day.
Patients have the option to come back another day, but most patients appreciate the convenience of not having to make a second appointment, according to diagnostic radiology physician Christopher Doyle, MD.
"The same-day biopsy has been helpful for both patients and staff," Dr. Doyle said. "It not only saves the patient scheduling time off work and traveling to our department, but allows us to more quickly make cancer diagnoses and get patients plugged into the system."
Chief of Breast Imaging Randy Miles, MD, leads the mammography team at Denver Health, located in the state-of-the-art Outpatient Medical Center, which opened in 2021. The breast imaging specialists at Denver Health have the latest technology, including 3D mammograms, and are among the best in the country at detecting breast cancer early.
Click here to learn more about Breast Imaging and Mammography at Denver Health, or call 303-602-4140 to schedule a mammogram.