Call to Schedule Your Mammogram:
303-602-4140
Located in the state-of-the-art Outpatient Medical Center, which opened in 2021 in downtown Denver, Denver Health Breast Imaging is committed to providing outstanding breast care utilizing expertise and the latest technology. Our breast imaging specialists are among the best in the country in detecting breast cancer early. We offer 3D Mammograms that use Smart Curve technology (shaped like a breast) to make for a more comfortable experience. You'll find us on the fifth floor of the Outpatient Medical Center.
Women 40 years old and above who have not had a screening mammogram within the past year are eligible to be seen at Denver Health Breast Imaging for routine breast cancer screening. We always stress talking with your primary care doctor about your risk factors.
To schedule your next mammogram, log into your MyChart account or call the mammography line at 303-602-4140.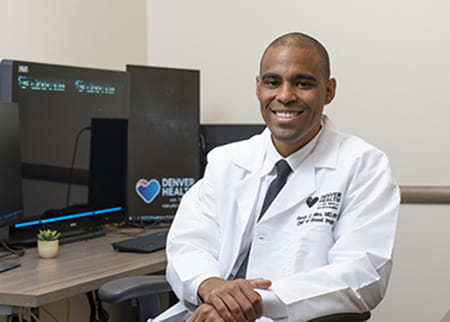 Our Mission
The Denver Health breast imaging team consists of breast imagers, certified technologists and excellent support staff. We are dedicated to addressing your breast health needs with clinical expertise, care, and compassion. We practice evidence-based medicine, utilizing the newest technology to make diagnoses and to perform advanced diagnostic procedures.
We provide personalized and comprehensive breast care based on our patients' specific needs – considering their values, preferences and other medical conditions. We offer a multidisciplinary approach, involving our patients' referring providers and other breast specialists to ensure each patient receives the best care possible. We are dedicated to ensuring the highest level of patient care and satisfaction.
Clinical Care
Denver Health Breast Imagingoffers the full spectrum of imaging techniques for detecting and diagnosing breast cancer, using the latest equipment in our state-of-the-art facility built in 2021. At Denver Health, you will have access to the most up-to-date technology, including the latest versions of mammography and ultrasound units offered by our vendors.
Our services are listed below:
Mammography (2D and 3D for screening and diagnostic exams)

Breast Ultrasound

Breast MRI

Stereotactic (Mammographic - Guided) Breast Biopsy

Ultrasound-guided Core Needle Breast Biopsy

Ultrasound-guided Cyst Aspiration

Ultrasound-guided Fine-needle Aspiration

MRI-guided Core Needle Breast Biopsy

Needle (wireless) Localization Procedures

ABUS (Automated Whole-Breast Ultrasound)

Breast Lesion Cryoablation
Additional Breast Imaging Resources
Educational resources from the Susan G. Komen Breast Cancer Foundation