We are the Denver Health Outpatient Medical Center Pharmacy located in the Outpatient Medical Center (OMC), and we would like to welcome you by letting our Denver Health Specialty Pharmacy Service Team assist you with complex and costly medications. These medications usually require special storage and must be handled at certain temperatures that may not be available at your local pharmacy. These medications may vary; they can be injected, taken by mouth or infused. Sometimes these medications may have side effects, which require monitoring by a trained pharmacist, a service which we are happy to provide.
The Specialty Pharmacy Service Team focuses on providing these medications while providing you with excellent customer service and clinical support. We want to make sure that all of our patients feel well educated and comfortable with their prescriptions. The benefits received from the Denver Health Outpatient Medical Center Pharmacy's patient management program are optimized when our patients are willing to follow directions and are compliant to therapy.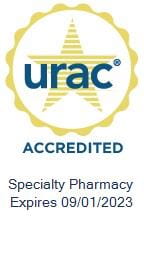 To provide excellent customer service we offer:
Pharmacy assistance that includes thorough one-on-one counseling by specialty pharmacists, so you always feel comfortable with what you are prescribed.
Clinical support for specialty medications, since we know that some medications can be very complex.
Refill reminders, because we all know that life is busy.
Insurance navigation and financial support so you know all of the options that are available to you.
Free and convenient delivery and pickup options throughout the day.
Interpreter/translation services to make sure that we understand your needs.
Access to a licensed pharmacist 24 hours a day, 7 days a week, to discuss any urgent, clinical matters by calling 303-602-8726.
Our specialty pharmacy would like to thank you for allowing us to be part of your health care team! We hope to provide you with friendly and helpful service now and always. Download our welcome packet for more information.

Commitment to Excellence
Denver Health is accredited by Accreditation Commission for Health Care (ACHC) for compliance with a comprehensive set of national standards. By choosing a healthcare provider that has achieved ACHC accreditation, you can take comfort in knowing that you will receive the highest quality of care. If you have any concerns about the product or service that you receive from Denver Health, you may contact ACHC directly at (855) 937-2242.
Our Services
Specialty Medications
Our specialty pharmacy offers medications that can be difficult to find for rare and chronic health conditions. Because of the complex nature of some conditions and their treatment, patients who use our specialty pharmacy typically need more services than a traditional pharmacy can provide.
Pharmacist Assistance
Our specialty pharmacists are trained on the medication you are taking and they are here to answer your questions about your therapy and care plan. Our pharmacists have direct access to your doctors, nurses and other providers and will reach out to them if needed.
Our patient management program is designed to help you get the most out of our specialty medication. Benefits of participation in our program include:
Improved knowledge of medication use and administration.
Improved medication compliance by creating an individualized plan for the patient to ensure medication doses aren't missed.
Improved ability to manage potential, difficult side effects.
Greater self-management of medications and medical condition.
Improved coordination of healthcare services through the collaboration of your pharmacist and doctor.
24/7 accessibility to a pharmacist or other clinical staff.
Pharmacists will:
Teach you how to take your medicine correctly and consistently and share why it's important.
Ensure that you know how to use injectable medications.
Help you understand and manage side effects and drug interactions.
Discuss any problems you may have, such as administration difficulties or cost concerns.
Work with your health care team to ensure your therapy is safe, effective and appropriate.
Please call one of our pharmacists if you have any questions regarding your treatment. A licensed pharmacist is available 24 hours a day, 7 days a week for any urgent needs relating to your medication. After normal business hours, if you must leave a message, a pharmacist will promptly return your call within no more than 30 minutes. In case of an emergency call 911.
Prescription Delivery
You can always pick up your medication(s) from our specialty pharmacy or schedule a free overnight delivery via FedEx.
FedEx delivers Monday through Saturday (Tuesday through Saturday if the medicine requires refrigeration). Or a courier can be scheduled same day Monday through Friday between 9 a.m. and 5 p.m. with a signature upon receipt. If you cannot accept the package, it can be left at another approved location; however, a signature of the recipient upon receipt is requested. Please complete both sheets of the Denver Health Delivery Program Sign-Up Form found at the end of this welcome packet.
We are not able to ship to a PO Box. Our team will coordinate delivery of your specialty medication(s) to your home or an approved alternate location if and when necessary.
We will also include any necessary supplies, such as needles, syringes, sharps containers and alcohol swabs, at no cost to you. If your medication(s) require special handling or refrigeration, they will be packaged and shipped accordingly.
Our specialty pharmacy will make every effort to deliver your medication and supplies early if a weather warning is in place. Our team member will attempt to call our patients, in order of disaster priority, with any special instructions. Please make sure we have your secondary contact information on file to ensure we can reach you in case of an emergency or a delivery delay so there is no lapse in therapy. In addition, please let our staff know if your contact information changes.
Insurance Coverage and Copays
Even with insurance coverage, your out-of-pocket cost may be high, depending on the insurance plan. We will work with manufacturers, advocacy programs and governmental programs to see if you are eligible for any financial assistance. You may have to pay a copay each time a medicine is filled. We will tell you the exact amount you need to pay. The copay amount for a specialty pharmacy medication may still be high, despite having your insurance company pay for most of the cost. Our team will research various financial assistance programs available to possibly lower your medication therapy cost. We may ask you to fill out a patient medication assistance program authorization form in order to provide these services. Download our welcome packet for more information.
Prior Authorization: Some medicines need documentation for costs to be covered. This process is called prior authorization. Our team has the expertise to process this paperwork, which may take a few business days to complete. Our team keeps you and your doctor informed throughout the process, especially if there are expected delays. If insurance denies coverage for your medicine, our team can help your doctor file an appeal.
Out-Of-Network: If your insurance plan considers our specialty pharmacy an out-of-network pharmacy, we will inform you of the cost to fill your medicine with us in writing. Our staff will transfer your prescription to an in-network pharmacy if there is a cost savings to you.
Payment Plans: Any balances must be paid prior to your next refill. We accept credit/debit cards, cash, personal checks and most flexible spending accounts.

If you get a check from your insurance company, you should send it to our specialty pharmacy with a copy of the Explanation of Benefits (also known as the EOB) statement you received. If you have any questions regarding this, please call us at 303-602-8726.

If you need help in arranging a payment plan for the balance you owe, we will be happy to help you in setting up a payment plan. Please call us and advise us of your situation.
Filling a Prescription
Your provider will send the prescription to our specialty pharmacy. Our staff will begin the process of enrolling you in our specialized patient management program service that includes education about how and when to take your medication, how to manage potential side effects and ongoing clinical evaluation and support.
Our specialty pharmacy's patient management program is provided to you at no additional cost and your participation is completely voluntary. If you do not wish to participate in the patient management program, please call 303-602-8726 and ask to speak to a specialty patient management program representative.
Filling your prescription with our specialty pharmacy is also optional. If you would like to use another specialty pharmacy, please call 303-602-8726 and ask to speak to a specialty patient management program representative. We will help you with the transfer of your prescription.
Prescription Refills and Renewals
You may order refills by:
Stopping by our specialty pharmacy located at 660 N. Bannock St in the Outpatient Medical Center
Calling our specialty team at 303-602-8726. When calling to request a refill, please allow two (2) business days for our specialty pharmacy to process and deliver your refill order.
Requesting prescription refills and renewals online through Denver Health MyChart. One of our specialty pharmacy team members will contact you to confirm receipt of your request and to provide you with a date and time when your prescription will be ready for pick up or when it will be delivered.

**MyChart is a secure online service that provides direct, anytime access to your or your family's health information and allows simple health care management from any smartphone or computer. Read our MyChart Explainer to learn how MyChart works improve your care experience at Denver Health.
You can also check you order status by stopping by our specialty pharmacy, calling our specialty pharmacy team or using the MyChart online service.
If you have lost your medication or supplies, or if you need your prescription(s) in advance of travel, please call our specialty pharmacy, and our staff will work with you and your insurance company to ensure that your medications are covered and that there is no lapse in therapy.
Refill Reminders
A member of our team will contact you:
One (1) week before your medication is scheduled to run out
To check your progress
To determine the shipment or delivery of your next refill
To verify your therapy and get a new prescription if you do not have any refills left.
Our patient care coordinator or pharmacy technician will connect you to a clinical pharmacist if you have any questions or concerns about your therapy.
Interpreter/Translation Services
If you are deaf, hearing impaired or if English is not your primary language, an interpreter is available. There are also special services available if you are visually impaired.