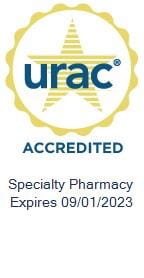 We are the Denver Health Specialty Pharmacy Service Team and we would like to welcome you to Denver Health. Our Specialty Pharmacy Service Team assists you with complex and costly medications. These medications usually require special storage and must be handled at certain temperatures that may not be available at your local pharmacy. These medications can be injected, taken by mouth or infused. Sometimes these medications may have side effects, which require monitoring by a trained pharmacist which we are happy to provide.
The Denver Health Specialty Pharmacy Service Team focuses on providing these medications while providing you with excellent customer service and clinical support. We want to make sure that all of our patients feel well educated and comfortable with their prescriptions. The benefits received from the Denver Health Specialty Pharmacy's patient management program are optimized when our patients are willing to follow directions and are compliant to therapy.
To provide excellent customer service we offer:
Pharmacy assistance that includes thorough one-on-one counseling by specialty pharmacists, so you always feel comfortable with what you are prescribed.
Clinical support for specialty medications since we know that some medications can be very complex.
Refill reminders because we all know that life is busy.
Insurance navigation and financial support so you know all of the options that are available to you.
Free and convenient delivery and pickup options throughout the day.
Interpreter/translation services to make sure that we understand your needs.
Our Specialty Pharmacy Service Team would like to thank you for allowing us to be part of your health care team! We hope to provide you with friendly and helpful service now and always. Download our welcome packet for more information.

Commitment to Excellence
Denver Health is accredited by Accreditation Commission for Health Care (ACHC) for compliance with a comprehensive set of national standards. By choosing a healthcare provider that has achieved ACHC accreditation, you can take comfort in knowing that you will receive the highest quality of care. If you have any concerns about the product or service that you receive from Denver Health, you may contact ACHC directly at (855) 937-2242.
Patient Resources and Support
Our specialty pharmacy will ensure that you have access to information from community resources to help you optimize your medication therapy and better manage your disease state.
Know your rights and responsibilities as a patient of Denver Health and our organization's privacy notice.