From Relapse to Recovery
August 30, 2018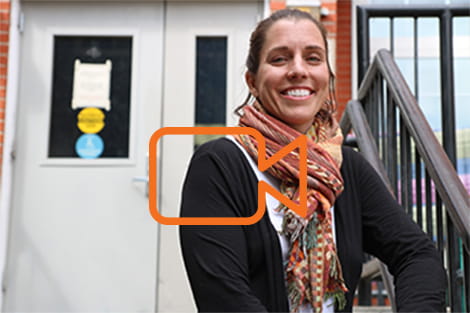 A Former Heroin Addict's Journey to Marriage and a New Career
Christy Polito started using heroin when she was 28 years old and living in Dallas, Texas. She said she got into drugs because her boyfriend was doing them. Polito had not experimented with drugs and alcohol growing up and said once she started using heroin, she became an addict almost immediately. "There was no point of recreational use for me," Polito said.
Her struggle with addiction wasn't easy. She managed a five-year period of abstinence from using drugs while still living in Dallas, but when she moved to Denver, she and her boyfriend relapsed. Soon after, they made a decision together that they both wanted to be "done with using drugs."
Polito began getting medication assisted treatment at Denver Health's methadone clinic, a few days after her boyfriend began getting methadone treatment at Denver Health. That was nearly two years ago.
Polito managed to get off of methadone and is now completely drug-free. She is in school to become a surgical technologist and is continuing her therapy with Denver Health Behavioral Health Primary Therapist Allison Coleman.
"My counselor Ally has meant everything to me," Polito said through tears. "She has taught me so much about trust and having an open relationship. I look forward to coming to see her. I really don't know what I would have done without her."
Friday, August 31, 2018 is Overdose Awareness Day. Polito said that the day "is a really big reminder of how easily [my addiction] could have gone somewhere else."
Both Polito and her boyfriend are now clean and sober and married. Polito said "I don't think I would have gotten married without Denver Health."
Learn more about opioid addiction and Denver Health's role in solving it.
Watch Polito tell her story in this short video.
Read more patient stories about drug addiction recovery here.