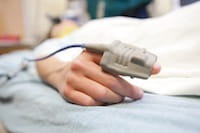 The Pediatric Intensive Care Unit is located adjacent to the pediatric hospital unit. Each room is private with a flat screen television and is equipped with all of the state-of-the-art equipment needed to help children recover from serious illnesses and injuries.
Pediatric intensivists and surgeons are on staff to provide care 24 hours a day and our nursing staff specializing in pediatric intensive care is always nearby to help.
Visiting Hours
We welcome family to visit as often as they like. There are no set visiting hours in the Pediatric Intensive Care Unit, but we do ask that visits end in the early evening to allow children to rest.
The pavilion is a secure building and all visitors must check in with the information desk on the first floor for a pass to be granted access to the unit.
Of course, parents and other caretakers are more than welcome to stay with their child overnight. Each room has a twin-size pullout bed to accommodate parents and other caregivers.