Walk-In Urgent Care in Downtown Denver
For immediate health care for children and adults, visit the Denver Health Downtown Urgent Care.
Our Downtown Urgent Care Location
We are located in the heart of downtown Denver, located conveniently for travelers and tourists, with close proximity to major downtown hotels and event centers. We are also the top choice for downtown Denver residents looking for an urgent care with low to no wait times. Click on the directions icon on the map below to navigate directly to the Downtown Urgent Care location from Google Maps.
Insurance Accepted and Affordable Self-Pay Options
Denver Health Downtown Urgent Care accepts most commercial insurances, Medicare and Medicaid. The Urgent Care also has simple, upfront, cash-pay options. Some health policies may classify urgent cares as out-of-network. We strive to provide reasonable pricing, which is extremely helpful if you have a large deductible. Contracts with insurance companies can change, so please contact your insurance provider to confirm that the Downtown Urgent Care clinic is in network and to ensure we accept your insurance.
Denver Health's mission is to care for all. The Downtown Urgent Care does not participate in the Colorado Indigent Care Program (CICP) or the Denver Health Financial Assistance Program (DFAP). Patients who participate in the CICP or DFAP may receive their care at the Adult Urgent Care Clinic on Denver Health's main campus at 660 Bannock Street, Denver, CO 80204, and at any of our ten Family Health Center locations across the city.
Patients needing emergency medical attention will be transported to the proper facility.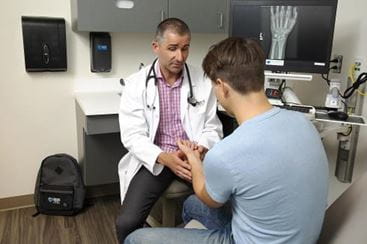 Virtual Urgent Care at Denver Health
Denver Health's Downtown Urgent Care Clinic is available to see you with short wait times, but if you prefer a virtual care appointment please click the icon below to make an appointment. Please note that if your concerns require a x-ray, or other specific procedure that can not be completed virtually, you may need to come into Denver Health's downtown urgent care clinic for further care.
---
---