Mom Keeping Up With Kids After Bariatric Surgery
September 26, 2019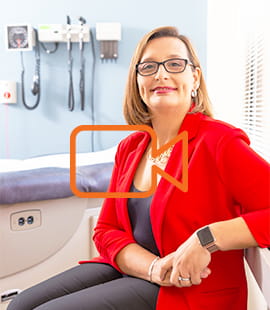 Claudia Garcia is a completely new person. Not only does she look dramatically different than she did over a year ago, she feels much better too.
Garcia had a
thyroid condition
which caused her to struggle with her weight and overeat for 3-4 years.
"I used to be kind of a stress eater," she reflected. "I was always conscious about being overweight."
A stay-at-home-mom of six kids – ages one through 21 – Garcia said that she was starting to have trouble keeping up with her youngest kids and wanted to be more active and have a different life.
Heeding a recommendation from her primary care doctor at Denver Health's
Federico F. Peña Southwest Family Health Center
, Michael Russum, M.D., on June 6, 2018, Garcia had
bariatric surgery
, commonly known as weight-loss surgery, at Denver Health. Denver Health Bariatric Surgery Center Director
Fredric Pieracci, M.D.
, said her
laparoscopic roux en y gastric bypass
was a big success.
Dr. Pieracci changed the size of Garcia's stomach and small intestine to restrict her food intake so that she would continue to lose weight after the surgery. Bariatric surgery patients at Denver Health go through a six month program to make sure they are ready physically and mentally for the surgery and have adopted a healthy lifestyle which they can continue to live after the surgery. Patients work with psychologists, nurses and dietitians to ensure they are ready for big change in their lives.
"She's had an excellent result," Dr. Pieracci said. "Her one year weight loss was 85 pounds – which is outstanding!" Garcia weighed 271 pounds before the surgery. She now weighs 186.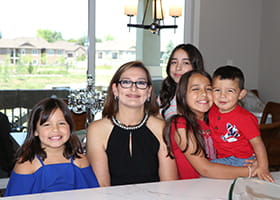 Garcia said Dr. Pieracci and the entire team at Denver Health's Bariatric Surgery Center helped her every step of the way, including those anxious moments on the day of the procedure.

"It is a big surgery," Garcia said. "But Dr. Pieracci, he's definitely a great doctor, he's very caring. I remember laying down on the gurney, ready to go in for the surgery, he came out and said to me, 'You are going to have great results. You are going to be just fine. We are going to take care of you,' and that really impacted me that day, because I was really nervous."

"She has seen a tremendous change not only in her physical appearance but also just her level of energy and her mental health," Dr. Pieracci remarked.

Another positive side effect is Garcia was able to completely stop taking medication for high blood pressure. "To just suddenly not have to pay for medication and then stop taking them is a huge quality of life deal," Dr. Pieracci pointed out. More than 80 percent of Denver Health bariatric surgery and weight-loss surgery patients have reported that their diabetes, high blood pressure, high cholesterol and sleep apnea had improved or gone away following weight-loss surgery.

Garcia said that her life has changed drastically in the past year since having the surgery. "You know, I feel great. I feel awesome. I'm now very active. I can keep up with my kids now! This process is definitely worth it. It will change your life forever."

Interested in bariatric surgery? Register for an upcoming informational seminar on bariatric and weight-loss surgery at Denver Health:
Register Now
If you want to share your patient story at Denver Health, email Patient_Stories@dhha.org.