At Denver Health, our gold standard of care for severely obese patients who qualify for weight-loss surgery is Roux-en-Y gastric bypass. This surgery is the most commonly performed weight-loss surgery with a long history, good results and few side effects.
The Roux-en-Y Procedure
This procedure promotes weight loss by restricting the amount of food you can eat and therefore the amount of calories that the body can absorb — a process called malabsorption.
During surgery, a small stomach pouch (about the size of a golf ball) is created from the large, existing stomach. This smaller pouch is attached directly to a piece of small intestine, limiting the kinds of foods that can be eaten and bypassing some of the small intestine, limiting the absorption of what is eaten. The large, leftover portion of the stomach is left in place to carry digestive juices to the small intestine. Roux-en-Y patients generally require a three-day hospital stay.
Minimally Invasive Roux-en-Y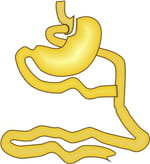 Since 2010, Denver Health bariatric surgeons have performed the Roux-en-Y procedure laparoscopically, using minimally invasive tools and techniques. Surgeons create five to six small (1 centimeter) incisions, use long surgical tool through these incisions and use a video telescope for better viewing inside the body. The laparoscopic approach to gastric bypass results in:
Faster recovery
Fewer wound problems
Fewer hernias
Less blood loss during surgery
While the laparoscopic Roux-en-Y has some advantages, the open or traditional surgery may still be recommended. During the open Roux-en-Y, surgeons create a 12 centimeters (5 inches) incision to perform the surgery.
Each patient will work with the bariatric surgeon to determine what surgery (Roux-en-Y Gastric Bypass or Sleeve Gastrectomy) and what approach (laparoscopic or open) is best for each individual situation.