Study: Bariatric Surgery Can Prevent Heart Disease, Early Death
October 02, 2019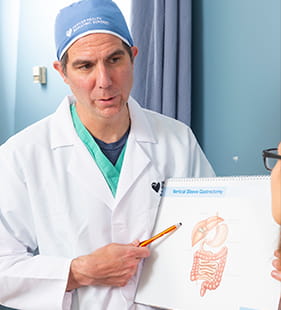 Weight-loss surgery, medically known as bariatric surgery, has been proven as an effective way to help patients find a new lease on life. It is recommended to those who weigh more than 100 pounds over their ideal body weight or those who are considered severely obese with a medical complication, such as Type 2 diabetes (aka adult onset diabetes). The success of weight-loss and bariatric surgery is clear: More than 80 percent of patients at Denver Health's Bariatric Surgery Center have reported that their diabetes, high blood pressure, high cholesterol and sleep apnea had improved or gone away following weight-loss surgery.

Now, a new study suggests bariatric surgery could mean more than just a significant improvement in your health – it could be the difference between life and death. The study from the Journal of the American Medical Association (JAMA) found that bariatric surgery may reduce the overall risk of strokes, heart attacks, heart failure and kidney disease by nearly half. An editorial accompanying the study reported that bariatric surgery, rather than medications, should be the preferred treatment for controlling Type 2 diabetes in certain patients.

Denver Health Bariatric Surgery Center Director Frederic Pieracci, M.D. said there are often misconceptions about why people choose to have bariatric surgery. "Weight loss surgery is often misunderstood as being done just for cosmetic reasons," Dr. Pieracci noted. "This couldn't be further from the truth. In addition to decreasing your risk of death, bariatric surgery has lasting effects on a wide array of medical conditions, ranging from gout to depression. The data from this study confirm that bariatric surgery is the most effective way to decrease cardiovascular risk in patients who are severely obese. We are proud to offer bariatric surgery to our patients at Denver Health as an American Society for Bariatric and Metabolic Surgery accredited comprehensive center."

The study is promising for the more than one-third of American adults who have obesity, which is closely linked to Type 2 diabetes, heart disease and stroke. A majority of Americans who have Type 2 diabetes die of heart disease. The study was conducted at the Cleveland Clinic and funded in part by Medtronic, a company that makes medical equipment used in weight-loss surgery. The majority of the patients had undergone gastric bypass or sleeve gastrectomy, the two minimally-invasive procedures offered to patients at Denver Health's Bariatric Surgery Center.

In the study, patients with Type 2 diabetes and considered obese who underwent bariatric surgery were 40 percent less likely to die from heart disease. They were also less likely to develop one of five major complications associated with obesity and diabetes: heart attacks, strokes, heart failure, atrial fibrillation or kidney disease.
Benefits of Bariatric Surgery
The patients who had weight loss surgery lost an average of 15 percent more weight than those who did not have surgery, and they had lower blood-sugar levels, needed less medication and less insulin to control diabetes, and required fewer drugs to control blood pressure and cholesterol.

Denver Health Cardiologist Mori Krantz, M.D., treats patients with heart issues on a regular basis. He also sees the benefits of bariatric and weight-loss surgery for his patients. "Obesity is the largest public health threat facing the U.S. as it drives the development of diabetes, which in turn leads to heart attack and stroke," Dr. Krantz said. "This risk is magnified in the Hispanic community. While medications can help patients lose weight, they have safety risks, are expensive, and only lead to modest weight loss, and the weight is gained back when they stop taking the medication. By contrast, bariatric surgery, performed by Dr. Pieracci at our hospital, has the potential to lead to substantial weight loss. This in turn will reduce the burden of heart disease and death and should no longer be viewed as 'an extreme option' for weight loss in selected patients."

"Keep in mind that surgical weight-loss patients are highly motivated and must be healthy enough to go through the surgery," Dr. Pieracci added. "At Denver Health's Bariatric Surgery Center, a team of psychologists, nutritionists and nurses work with patients for at least six months before bariatric surgery and after the surgery to ensure proper results, weight-loss progress, proper nutrition and healthier lifestyle choices including regular exercise and good eating habits. The decision to have weight loss surgery should not be taken lightly, and Denver Health's team of specialists is available to help guide you through the decision making process."

To begin your journey to weight loss surgery at Denver Health, register for an upcoming informational seminar, held once a month.
Frederic Pieracci, M.D., is the medical director of Denver Health's Bariatric Surgery Center. He has been at Denver Health for 10 years. Under his medical direction, Denver Health became accredited as an American Society of Metabolic and Bariatric Surgery Comprehensive Center in June, 2018. This certification signifies that Denver Health provides outstanding care for bariatric patients at all levels, from specialized equipment to excellent surgical outcomes.

Mori Krantz, M.D., is a specialist focused on preventive cardiology at Denver Health. He has been with Denver Health for 20 years.