Denver Health Teams Up With DPS to Vaccinate Thousands of Teachers and Staff Against COVID-19
February 24, 2021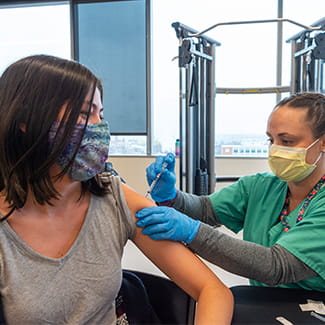 Denver Health has joined forces with Denver Public Schools (DPS) to provide COVID-19 vaccines to more than 3,000 of the district's teachers, custodians, bus drivers and school support staff, along with early childhood educators from throughout the metro Denver area.
The mass vaccination effort for teachers and school staff began in early February – that's when Colorado state health officials authorized that group as the next to receive vaccinations following vaccinations for health care workers and people over the age of 65. More than 1,000 DPS staff received their first vaccines during a mass vaccination clinic on February 13, set up inside Denver Health's new
Outpatient Medical Center
. More than 2,000 more educators and support staff have received their vaccines since and more are scheduled to receive their vaccines in the coming weeks, with the district's goal to offer vaccines to any employee who wants one by Spring Break. Denver Public Schools is offering vaccinations to staff based on a priority list of schools, beginning with those with the highest percentage of students who qualify for free and reduced price lunch.
"My GI lab staff and I were really excited to vaccinate DPS teachers," said Denver Health Multidisciplinary Operations Manager for the Department of Medicine Michael Cowen, MBA, BSN, RN. "Most of us live in Denver, so it was really important for us to do something for the community and go above and beyond our normal daily tasks."
DPS and Denver Health have long been partners in the community. Denver Health operates 18
School-based Health Centers
within DPS schools to provide no-cost healthcare to the district's students. Denver Health has also provided free COVID-19 testing to students who are showing symptoms, allowing DPS to quickly track cases as they arise, quarantine individuals and limit the potential spread of the virus.
"I want everyone to be safe – that's the most important thing," said MLK Early College music teacher Julian Willis, who got vaccinated at the February 13th event. "As a teacher, I'm thinking about the kids more than I'm thinking about myself. I know they're going home to their families, grandparents, people that are just with them at all times, so I really want to make sure that they're safe as much as possible."
Trevista at Horace Mann gym teacher Chris Simmons said he not only got the vaccine to protect himself and those around him, he wanted to serve as an example for others in the Black community. "In my culture, usually it's frowned upon to get vaccines or trust doctors and hospitals," Simmons said. "So being somebody that I feel is important in my community and is looked upon his leadership, I felt that it was good for me to go in and do it so I could show my culture and my community – hey, it's okay, I'm doing it, you can do it too." Simmons added he was nervous before getting the shot but after getting it, he realized he was nervous for no reason.
"I got the shot to protect my home," special needs bus paraprofessional Asia Kizer said. Kizer had COVID-19 last year, recovered and was thrilled to get the vaccine. "It was to protect myself and to protect others. It's just, a smart move to do it."
"When we are working, we are surrounded by quite a few people," food services worker Suzy Zavala agreed. "So it can be very easy to be exposed."
See DPS's coverage of Denver Health's mass vaccination clinic for educators
.
Denver Health will continue vaccinating DPS staff and other groups as they become eligible to get the vaccine according to the state's vaccine guidelines.

Protect yourself, your loved ones and the community. COVID-19 vaccines are safe and effective against the virus. Register here to get a vaccine.