What it Means to be a Nurse at Denver Health
May 04, 2022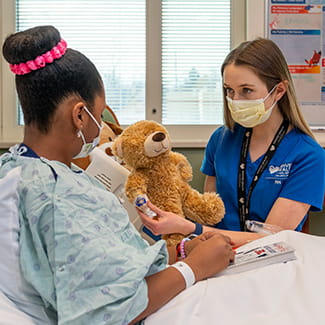 Honoring Our Current (and Future) Nurses for Nurses Week 2022
May 6-13, 2022 is National Nurses Week, a time to recognize, honor and celebrate the strength of our incredible nurses and the impact they make every day on our patients. To be a nurse is to answer a calling to care for the sickest of the sick and it has been especially challenging during the past few years of the COVID pandemic.

This year's celebrations at Denver Health for our nurses include a kickball tournament, ice cream social, dancing contest, trivia, breakfast and the Denver Health Nursing Awards – which are held on Thursday, May 12, the birthday of Florence Nightingale, who is known as the founder of modern nursing.
To honor our Denver Health nurses and help recruit the next group of nurses to join our amazing team, we spoke with several nurses from across Denver Health to find out what it means to them to be a nurse at Denver Health and why they would recommend other nurses to apply to join the team here.
As Denver Health's Chief Nursing Officer Kathy Boyle explained, "There's a lot of heart in our nursing staff, and they really value being part of an organization that is fully committed to caring for people, regardless of their circumstances."
Briana Simpkins, RN – Pavilion A, 8th Floor
Briana Simpkins works the overnight shift in Denver Health's main hospital, on the 8th floor of Pavilion A. She grew up in Denver (her family owns the famed Welton Street Café) and comes from a family of nurses, including her mother who also works at Denver Health. Simpkins is passionate about Denver Health's mission and why she got into this profession.

"You get into nursing to help people, and Denver Health is a great place to help people," Simpkins said. "When I started this job, I said it was my dream job and I meant it. This is absolutely where I want to be."


Alexandra (Ali) Lucero, RN – Pre-Op
Preparing patients for operations requires a nurse who has a unique ability to calm them down, make them comfortable and set them at ease. Alexandra (Ali) Lucero is a pre-op nurse who has just that ability. Like Simpkins (and many other nurses here) Lucero comes from a family background in nursing, including a mother-in-law who was a nurse at the old Denver General Hospital for more than 30 years. Her family inspired her to get into nursing after being a theater major and she loves how welcoming Denver Health is to everyone who comes through our doors.
"I work at Denver Health because we actually have a huge impact on the community at large, from the kiddos to the LGBTQ community to refugees, non-documented, the unhoused, it doesn't matter," Lucero said. "We take care of everone. You feel like you make a difference. It is very rewarding."
Laura Burgess, RN – Labor and Delivery
Laura Burgess recently joined Denver Health from the east coast. She works with pregnant people and new babies as a nurse in
labor and delivery
and is one of those nurses who is full of energy, even if she's at the end of a long shift (how does she do it?). Burgess is confident she made the right choice in joining our nursing team because of the atmosphere at Denver Health.
"The culture at Denver Health is really what made me want to come work here," she said. "It's so patient centered, the care and attention that we pay to our patients is really what drew me in. You just feel so uplifted and so happy, and that feeling is enough to carry you through the next three, six, nine
shifts that are up ahead."
Susan (Suzzy) Hatfield, RN – Labor and Delivery
Susan (Suzzy) Hatfield has seen a lot of patients in her 20 years as a nurse. She has spent most of those years in labor and delivery at Denver Health, where even after all these years, she still marvels at the diversity of the patients who she's delivered. The nurses have a map of the world up on a bulletin board where they add pushpins to mark every country their patients come from. Almost every country in the world is represented. Hatfield said she takes great joy in learning about her patients' cultures and says her African refugee patients have a special place in her heart.
"This map of continents and countries of where our patients come from is so enriching to my heart," Hatfield reflected. "It fills my soul."
Mark Goldstein, RN – Emergency Department
Mark Goldstein has more than 30 years of experience as an
emergency department
nurse in other hospitals, but recently made a decision to come to Denver Health, where he said he hopes to finish his career. Denver Health's world class reputation for trauma and emergency care is what drew him here, in addition to our commitment to care for all.
"I chose to work at Denver Health as a registered nurse because of its mission and values," Goldstein said. "We are the forefront of providing high quality health care and to know that we have a dynamic team, this is where I want to be. I want to be a part of something great."
Tiffany Panza, RN – ACUTE Center for Eating Disorders and Severe Malnutrition
There is a long-time saying in the field of nursing, which Tiffany Panza said guides her daily work as a nurse at the
ACUTE Center for Eating Disorders and Severe Malnutrition at Denver Health
. "Nursing is work of the head, the heart and the hands," Panza said. She said she looks at each day as a learning opportunity and can't imagine another hospital with better opportunities to do that.
"Denver Health is a great place to ask questions, and being a nurse is something that allows me to, both help people and also to continue to learn and grow. The staff support one another and I feel there's always something to learn. Denver Health really is a community."
Trina Fernandes, RN – Float Pool
Trina Fernandes has been at Denver Health for five years, but started working as a nurse for Denver Health during the COVID-19 pandemic, joining our Float Pool, which means she is assigned where she is needed on a daily basis and can be doing anything from giving vaccines at a clinic to caring for patients at the bedside. She said her primary care provider at Denver Health inspired her to work in health care and she enjoys working for Denver Health because she can deliver health care with an emphasis on health equity and cultural sensitivity.
"There's so many opportunities that we have here, not only in the inpatient setting, but also in the outpatient setting," Fernandes said. "Many of us were told in nursing school that you should consider a career at bedside, but that's not the only career options that you have as a nurse."
Maria McAllister, RN – Inpatient Pediatrics
Not every nursing job gives you a chance to both care for patients and have playtime with them – but that's what drew Maria McAllister into the field of pediatric nursing. She's worked at Denver Health for three years in
inpatient pediatrics
and loves every minute of it.
"I really like being a pediatrics nurse because the kids need someone there to fight for them and to be their advocates until they're better and able to walk out of the hospital on their own, she said."
Sarah Reinholt, RN – ACUTE Center for Eating Disorders and Severe Malnutrition
Sarah Reinholt is one of those nurses who seemingly always has a smile on her face. Her cherry tone and energy is something that really resonates with her patients at the ACUTE Center for Eating Disorders and Severe Malnutrition. She said the friendliness of her co-workers and team atmosphere at Denver Health means she doesn't look at this as a "job" but rather a second home.
"I just love being a nurse," she said. "You just walk into a room, you make everyone smile and I just don't stop smiling. That shows how much I love my job. It's not just a job. It's my passion."
Amy Moore, RN and Christine Savoie, RN – Denver Health NurseLine
Not all nursing is done in person. For over a decade, Denver Health has had
NurseLine
, a dedicated phone line to help patients and people in the Denver community with urgent medical needs, give advice and help them get the care they need as soon as possible. Amy Moore is one of those friendly registered nurses on the other end of the line and Christine Savoie manages the team of nurses who answer patients' calls 24 hours a day, seven days a week.
Savoie has a message for any nurses considering applying to Denver Health. "You should apply for Denver Health because it isn't just a job, it's a mission, it is a lifestyle, it is a choice to be able to take care of a vulnerable patient population, and that's what we do at Denver Health every day."
We thank all our current (and future) nurses during nurses week and every week.
If you are interested in pursuing a career as a nurse at Denver Health please visit the Nurse Recruitment page.