Join Denver Health Today
Featured Job Opportunities in Nursing
Open Nursing Job Positions:
Denver Health is actively hiring a variety of nurse positions. One of our greatest nursing-related priorities is to continuously improve our nurse-to-patient ratio and focus on safe staffing. We are excited to increase our nursing team.
Clicking on "Apply as an External Applicant above" (or Internal if you currently work at Denver Health) and searching for "Nurse" in the Job Title field will reveal a variety of open nursing positions. You can refine the search even more by adding a modifier in the keyword field. These modifiers can include terms like:
Charge Nurse
LPN
New nursing graduate
Nurse Manager
Nurse Supervisor
We are currently hiring for a variety of nursing positions and are working hard to fill supervisory roles. These include nurse management positions including charge nurse managers, nurse practitioners, and more. Apply and join our nursing team today!
Why Denver Health?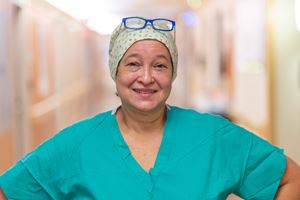 When you join Denver Health, you join a family. We are compassionate, mission-driven and committed to improving our communities.
High quality care for all is at the heart of Denver Health's mission. As Colorado's primary safety-net institution, we are driven to serve the people of Denver regardless of their social or economic situations.
Denver Health has been serving the people of Denver as an anchor in the community since 1860. We care for the whole person by addressing factors like access to healthy food, housing, employment, transportation and education.
Denver Health provides several rewarding career paths for nurses from our level 1 trauma center, to our urgent care centers, inpatient care at our main hospital and outpatient care at community health centers located throughout the city. We welcome nurses from all career stages, whether you have many years of experience or have just completed your degree; there is a place for you at Denver Health.
Nurses are an essential part of our collaborative care teams. We welcome to you join our team, where you will have a chance to provide care to patients from all walks of life and handle cases at every level of complexity, unlike any other hospital system in the Rocky Mountain Region.
Our Employee Benefits
We offer the following:
Competitive pay
20 days paid time off and seven paid holidays each year for new employees
On-site, low-cost employee fitness center and virtual well-being classes
24/7 counseling for you and your family through the Employee Assistance Program
Competitive health insurance plans and excellent medical and dental benefits
Education opportunities and tuition reimbursement
Shared leadership and advancement opportunity
State-of-the-art facilities
Immediate retirement plan vesting
Professional clinical advancement program
Participation in evidence-based projects
See our full benefits here.
Our Nursing Specialties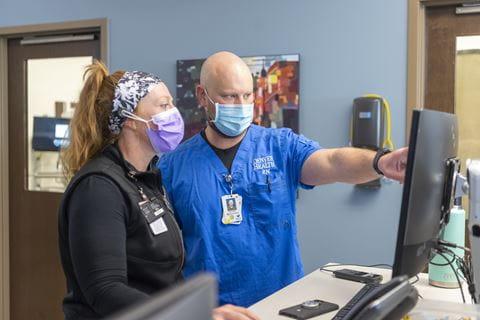 Critical Care

Medical ICU (MICU)
Surgical ICU (SICU)
3B Flex /Progressive Care Unit

Acute Care

Medical/Oncology
Medical/Telemetry
Medical/Cardiology
Med/Surg/Tele
Surgical Trauma Unit
Ortho/Neuro/Uro
Oasis
Med/Surg/Tele-Correctional Care Unit

Women and Children's

Labor and Delivery
Mom/Baby
Pediatrics/Pediatrics ICU (PICU)
Neonatal ICU (NICU)

Emergency Services

Adult Emergency Department
Pediatric Emergency Department
Transfer Center
Admission/Discharge Unit
Clinical Decision Unit- Short Stay Observation Unit
Rapid Response Team
SANE Program - Forensic Nursing

Surgical Services

Operating Room
Outpatient Operating Room
Preop/PACU
Outpatient Preop/PACU

Behavioral Health

Adult Inpatient Psychiatry
Adolescent Behavioral Health
Psychiatric Emergency Services
ACUTE Center for Eating Disorders

Float Pool