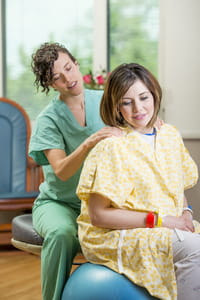 Our birthing center, located in our Labor and Delivery Unit, features beautiful, large private birthing suites equipped with state-of-the-art birthing beds and private bathrooms with whirlpool tubs. If needed, there is also space in our Labor and Delivery rooms for mom's spouse/partner to sleep overnight.
We are committed to helping you have the birthing experience you want. We offer water therapy, birthing balls and a nursing staff skilled in providing labor support techniques that will keep you relaxed and focused throughout your birthing experience.
Pain Management
If you choose to have an epidural or use other medication to manage pain during labor, anesthesiologists and certified registered nurse anesthetists (CRNA) are available 24 hours a day to help manage your pain. An anesthesiologist or CRNA can talk to you about pain management options during labor and delivery when you arrive.
If you desire a more natural childbirth experience and are not experiencing any complications, a certified nurse midwife is available to manage your labor and delivery.
C-Section
If you have a C-Section, your delivery will take place in one of three state-of-the-art operating rooms located on the Labor and Delivery Unit in Pavilion C. Most C-Sections are performed using anesthesia that allows you to be awake during the procedure and be able to hold your baby immediately after birth. Our physicians are skilled at performing C-sections to ensure the optimal outcome for mom and baby.
<! -- Possibly Add Photos to this page --!>