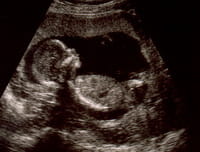 Part of your prenatal care will include at least one visit with a sonographer for an anatomy scan ultrasound, typically at or near 20 weeks. This visit ensures that your baby's development is on track. We can usually determine the sex of your baby from this ultrasound, and your sonographer will ask you before your ultrasound if you want to know the sex.
Anatomy scan ultrasound appointments are held in the Obstetrics and Genecology Clinic, which is located on the main Denver Health campus within our Pavilion C for Women and Children at 790 Delaware Street in Denver.
The staff at the clinic where you receive your regular prenatal care will assist you in scheduling your ultrasound appointment at or near 20 weeks. Some prenatal patients may need extra ultrasounds at the Obstetrics and Genecology Clinic. The staff at your regular clinic can help you scheduled these appointments as well.
The Pavilion C Obstetrics and Genecology clinic is staffed by sonographers with specialization in obstetric ultrasounds. This helps ensure that we have the best imaging possible of your baby and that you receive the highest quality of care.