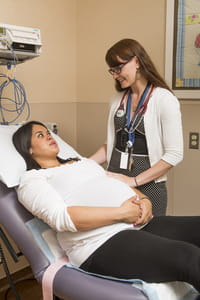 The Denver Health OB screening room is a unique resource for pregnant women and one-of-a-kind service in the Denver area. Expectant moms who are 14 or more weeks pregnant can visit the OB screening room at any time for evaluation and to be monitored. Open 24 hours a day, seven days a week, the OB screening room is staffed by certified nurse midwives and registered nurses who work closely with OB/GYN physicians to provide the best care possible.
If you are more than 14 weeks pregnant and believe you are in labor or experiencing any complications, you may visit the OB screening room or call the NurseLine at 303-739-1121. If you are less than 14 weeks pregnant, please visit the emergency room.
The OB screening room is located on the main Denver Health campus in the Women's Care Clinic on the first floor of the Pavilion C for Women & Children located at 790 Delaware Street in Denver.