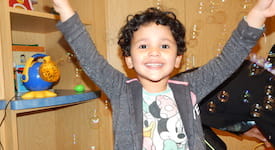 The Child Life Practicum at Denver Health offers students the opportunity to learn about pediatric hospitalization in the pediatric unit, the pediatric intensive care unit, the pediatric emergency department, and the pediatric outpatient clinics. Under the supervision of a Certified Child Life Specialists, students will get the opportunity to observe different types of interventions and will be facilitating various activities at the bedside and in the playrooms. Students are also asked to complete weekly assignments and receive feedback and guidance about their experiences. Students must complete a minimum of 150 hours within a typical school semester. We currently accept practicum students in the fall, spring, and summer semesters.
This program is volunteer-based and you cannot receive school credit unless there is a prior contract between Denver Health and your university. Please note that our practicum program currently accepts unaffiliated students.
Spring and Fall are 10 hours a week for 15 weeks.
Summer is 12.5 hours a week for 12 weeks.
Application Requirements
All of following will be uploaded or typed in the application process below.
1. Completed Denver Health Application Questions
2. A Current Resume and Cover Letter.
3. Unofficial transcripts from each university/college you have attended experience with at least a 3.0 GPA.
4. Two letters of recommendations; one familiar with your work with children/families.
2023 Child Life Practicum at Denver Health
Spring 2023
Dates: January 23rd, 2023 - May 5th, 2023
Application Deadline: October 12th, 2022
Offer Date: November 28th, 2022
Orientation: January 18th, 2023 (Need to be in Colorado)
Summer 2023
Denver Health will not offer a Child Life Practicum for the Summer of 2023
Fall 2023
Dates: August 7th, 2023 – November 17th, 2023
Application Deadline: May 5th, 2023
Offer Date: June 2nd, 2023
Orientation: August 2nd, 2023 (Need to be in Colorado)
Contact Information
If you need further information, please feel free to contact: ChildLife@dhha.org