Overview
Denver Health Breast Imaging is proud to offer a comprehensive breast imaging fellowship. We offer an outstanding training environment with all breast imaging fellowship-trained faculty and a diverse array of clinical cases and state-of-the-art facilities. The fellowship offers scholarly opportunities in clinical research, social media outreach, health policy research, and patient advocacy. Graduates from our fellowship program are prepared for either academic or private practice. All clinical staff in breast imaging at Denver Health are subspecialized in breast imaging and hold appointments at the University of Colorado School of Medicine.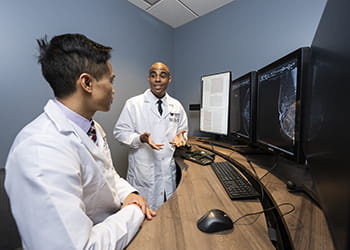 Breast Imaging Clinical Experience
Located in downtown Denver, our program offers a stimulating and supportive environment that prioritizes both patient care and physician well-being in state-of-the-art facilities completed in 2021.
As a breast imaging fellow, you will receive in-depth training in all aspects of breast imaging, including screening and diagnostic mammography, digital breast tomosynthesis, ultrasound, and MRI. Training in image-guided (tomosynthesis, ultrasound, and MRI) interventions using the latest technology is provided by a breast-imaging-trained proceduralist. Fellows are also involved in our cryoablation service and gain valuable experience in treating breast lesions with cryoablation.
We are a large clinical practice that provides fellows comprehensive breast imaging training with exposure to challenging clinical cases in a high-risk population. In addition, there are opportunities to participate in local outreach activities that support Denver Health's core mission of providing care for every patient.
Denver Health is focused on delivering efficient, productive, and cutting-edge clinical care; a robust and growing educational program for students, residents and fellows; and a research portfolio focused on collaboration with others inside and outside the Department.
All faculty at Denver Health have University appointments at the University of Colorado School of Medicine and are valued participants in University and Department of Radiology functions. Section members have access to the academic and cultural resources of Denver Health, University of Colorado School of Medicine, and other affiliate institutions. Breast Imaging Fellows are provided an academic appointment at the University of Colorado School of Medicine at the rank of Clinical Instructor.
Breast Imaging Educational Experience
Our fellows and faculty participate in a wide variety of educational sessions:
Protected time for weekly Breast Imaging Fellowship Consortium Lectures (established educational curriculum)

Routine case conferences and educational lectures, including discussions on public health, research, and clinical operations

Personal Learning Worklist Review of all screening recalls and diagnostic biopsy recommendations

Daily radiology-pathology rounds

Weekly multidisciplinary tumor board

Breast surgery, pathology, and medical oncology rotations

Quarterly journal club

Dedicated screening time

with weekly 1-on-1 review sessions with the chief of Breast Imaging

Support from our patient navigator and medical assistant with patient calls and clinician communications

Unique training opportunities learning to interpret ABUS exams and to perform breast cryoablation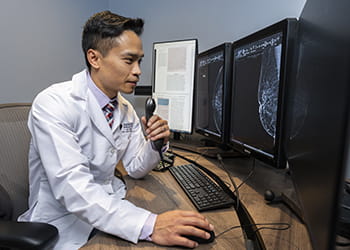 Breast Imaging Scholarly Activities
The breast imaging fellowship offers the ability to participate in numerous scholarly activities in clinical research, public health, social media, and health advocacy. Our fellows receive protected academic time for their projects and support to present at national meetings. We offer on-site clinical research facilities with full-time dedicated research staff.
Our faculty have a proven track record of mentoring college students, medical students, public health students and breast imaging fellows for presentations and research projects (Please click on research tab).
Call Responsibilities
There are no required call responsibilities. Fellows work Monday – Friday with the workday typically starting at 7:30 a.m. and ending at 4:30 p.m.
There are opportunities to cover emergency department imaging call shifts at Denver Health Hospital. It is an established call opportunity for additional salary. This opportunity is OPTIONAL and cannot interfere with your fellowship responsibilities. Numerous call shifts are available each month (evening and weekend) based on interest without commitment to take a specific number of shifts.
How to Apply to the Breast Imaging Fellowship
Timeline
Denver Health Breast Imaging participates in the Breast Imaging Fellowship Match. The Match is sponsored by the Society of Breast Imaging and will be managed by the National Resident Matching Program. To become a fellow, you must register with the Radiology Match.
For the Breast Imaging Fellowship Program, the deadline for applications is January 1. Applicants will be notified via e-mail once all application materials are received. Interview invitations will be sent via e-mail by January 15, and virtual interviews will begin in February.
The selection process involves an initial assessment of your CV, personal statement, and three letters of recommendation. Selected applicants will be invited for virtual interviews.
We currently offer one fellowship position. There will be joint educational opportunities with the fellow at the University of Colorado Fellowship program. To be considered for a fellowship position, the applicant must be eligible for a full medical license in the state of Colorado.
Guidelines for Application Materials
Applicants should submit the following documents:
Curriculum Vitae
Personal statement
3 letters of recommendation
USMLE Steps 1, 2 and 3; or FLEX Components 1 and 2; or NBME Parts I, II and III; or all parts of the MCCQE; or all parts of the examination of the National Board of Osteopathic Medical Examiners
All application materials should be sent via e-mail to randy.miles@dhha.org.