When to go to Urgent Care vs. the Emergency Room (ER)
July 17, 2019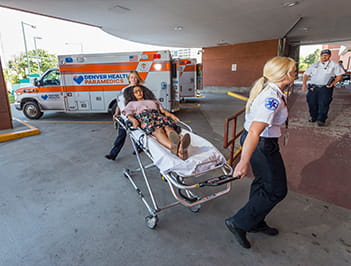 When you or a loved one is suddenly injured or feeling very sick, there's a critical decision to make – do you need to go to urgent care or the emergency room? Denver Health is here for you, 24 hours a day, seven days a week with an Adult Urgent Care Center, an Emergency Department and a Pediatric Emergency Department and Urgent Care Center at the same convenient location in the heart of Denver. We also have convenient urgent care locations in Southwest Denver, at Winter Park and in the heart of downtown Denver.

Choosing when to go to urgent care vs. the emergency room isn't always easy, especially when critical seconds count, but knowing the difference could save your life.
When to go to Urgent Care
Urgent care for adults and children treats sudden illnesses and injuries that require immediate medical attention after normal hospital business hours.

"When the illness or injury is something you would feel comfortable addressing with your primary care doctor, but you cannot get an immediate appointment or it is after hours, urgent care is your best option," said Denver Health Adult Urgent Care Center nursing manager Nichole Morris, RN.
Go to urgent care when you are suffering from any of the following illnesses and injuries:
Minor fractures
Sprains
Severe colds, flu and fevers
Coughs and asthma
Sore throats, ear aches and other respiratory problems
Minor cuts and abrasions
Back, joint or muscle pain
Abdominal pain
Minor bicycle or scooter injuries
Skin rashes
Allergic reactions
Altitude sickness
Gynecologic problems
Urinary symptoms
Denver Health's Adult Urgent Care Center is designed to be an alternative to the Emergency Department when your regular doctor is not available. Our hours are 7 a.m. - 7 p.m., seven days a week. We suggest that you contact the free, 24/7 NurseLine at 303-739-1211 before seeking care if you have medical questions.
When to go to the ER or Emergency Department
Head injuries, serious broken bones, chest pain or difficulty breathing and serious illnesses and injuries that need treatment right away are all reasons to visit the emergency room.

"Trust your instincts," Morris said. "If you are sick or hurt, you know your own body and you are the expert about your health. If something tells you it's serious, call 911 or go to the emergency department. Those precious minutes could make a life-changing difference."

The Emergency Department treats medical conditions that can require rapid or advanced treatments (including surgery) that are only available in a hospital setting.

Go to the emergency room when you are suffering from any of the following:
Sudden numbness in your face, arms or legs
Sudden change in vision
Serious head, neck or back injury
Difficulty breathing
Bleeding that won't stop
Chest pain or pressure
Severe burn
Seizure or fainting
Poisoning
If you think you are having an emergency, call 911 immediately.