New Grad RN applications are accepted throughout the year!
Please apply to open New Grad RN positions AFTER you have graduated from nursing school.
Search for keyword RN New Grad positions HERE or visit www.denverhealth.org/careers.


New Grad RN Position Requirements
Graduation from an accredited Nursing Education Program with no previous RN experience

BLS Healthcare Provider Certification (American Heart Association)

Flexibility to work weekends, holidays, and 12-hour day/night shifts

Sign a 2-year commitment agreement to work on the hiring unit

The 2-year commitment agreement begins on the 1st day of the Graduate Nurse Residency Program start date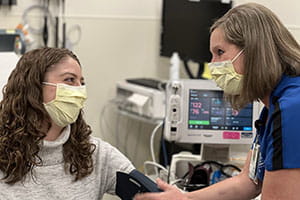 We understand the support needed for a new nurse to be successful.
With this in mind, we offer our New Grad RNs a 12-month Nurse Residency Program that provides monthly education classes and hands-on clinical experiences, designed to ease the transition from student to practicing professional nurse. Our program builds on the knowledge and skills acquired in nursing education programs.


The unit manager reviews all resumes and cover letters for their open positions. Our nurse recruiter will call applicants for a phone interview. You can be hired throughout the year and begin the Nurse Residency Program with the cohort closest to your start date as a New Grad RN. Cohorts begin in March, August, and November.


Program Components
Preceptor-led unit orientation, paid monthly 3-hour classes, professional role development, peer support, and learning activities to build confidence and competence in the RN role.
For more information, visit RN New Graduate External Inquiries.


WE HIRE GRADUATE NURSES ON THE FOLLOWING UNITS:
Medical Units:


9A (oncology)


8A (general medical)


7A (short stay)


6A (neuro)

Surgical Units:


4B (trauma)


4C (ortho)
Hospital Float Pool

Acute Eating Disorders (3M)

Adult and Adolescent

Behavioral Health

Mom/Baby, L&D, NICU, PEDS

Progressive Care Unit

Peri-Operative

Ambulatory

Positions on other units may become available