Nationally Accredited, Evidence Based Curriculum
New Grad RN applications are accepted throughout the year!
Beginning your nursing career: Nursing Student toolkit
Apply to an RN New Grad position up to 120 days before your NCLEX test date or anytime thereafter!
Click HERE and type "RN New Grad" in the Job Title search field.
Nurse Residency Virtual Info Session
We are here to answer all your nurse residency questions! Join a bi-weekly info session for an overview of our residency and application process. Meet panelists from our Nursing Education and Recruiting teams.
New Grad RN Position Requirements
Graduation from an accredited Nursing Education Program (ADN or BSN) and have 12 months or less experience as a Registered Nurse
BLS Healthcare Provider Certification (American Heart Association or Red Cross)
Flexibility to work weekends, holidays, and 12-hour day/night shifts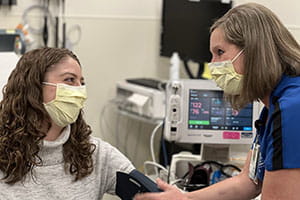 We understand the support needed for a new nurse to be successful.
With this in mind, we offer our New Grad RNs a 12-month Nurse Residency Program that provides monthly education classes and hands-on clinical experiences, designed to ease the transition from student to practicing professional nurse. The Denver Health Nurse Residency Program has been helping our nurses succeed for over 11 years and achieved Accreditation with Distinction from ANCC (the American Nurse Credentialing Center) in 2022.
During your residency, you'll receive:
Paid, monthly 3-hour classes led by in-house content experts
Specialty specific content in the area that you work
Multidisciplinary content and collaboration
1:1 preceptor-led unit orientation and ongoing mentorship
A focus on critical thinking, professional development, and peer support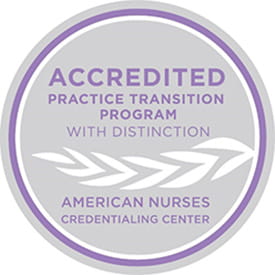 I've applied. How does the hiring process work?
You can be hired throughout the year and begin the Nurse Residency Program with the cohort closest to your start date
Cohorts begin in March, August, and November
The nurse recruiter will call applicants for a phone interview
Based on your preferences, the recruiter will forward your information to managers that have open positions
Managers will schedule interviews and you will be hired to a specific unit
For more information, please fill out the following form and a recruiter will respond: RN New Graduate External Inquiries.