COVID-19 Vaccinations Now Available For Children Six Months and Up
June 24, 2022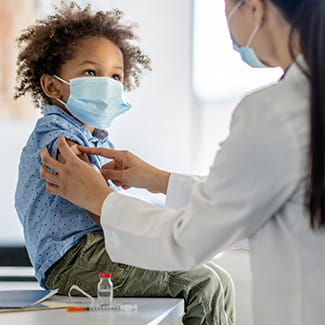 Denver Health is now offering COVID-19 vaccines to children as young as six months old. Vaccinations for the six months to five-year-old age group are authorized by the Food and Drug Administration and recommended by the Centers for Disease Control and Prevention, and vaccinations are the safest and best way to protect our children, family and friends from getting COVID-19.

The Pfizer vaccine is available only to the six month-four year old age group. It is given in three doses – the first two are three-eight weeks apart, the third is given at least two months later. The dosage is one tenth of the Pfizer vaccine for people age 12 and older.

The Moderna vaccine is available to the six month-five year old age group. It is given in two doses, four-eight weeks apart. Additional booster doses are not recommended for either vaccine at this time. Talk with your child's health care provider about the best time to schedule additional doses. The dosage is one quarter of the Modera vaccine for adults 18 and older. Learn more from the Colorado Department of Public Health and Environment.

Both the Moderna and Pfizer vaccines will be available to children at all of Denver Health's pediatric clinics: Westside Pediatrics, Eastside Pediatrics and Webb Pediatrics. Moderna only will be offered to children six months to five years old at our other Family Health Center primary care locations: Primary Care Center, Peña Family Health Center, La Casa-Quigg Newton Family Health Center, Westwood Family Health Center, Park Hill Family Health Center, Montbello Family Health Center, Lowry Family Health Center, Sloan's Lake Primary Care Center, and at Place Bridge Academy School-based Health Center. Parents can get their children vaccinated at their well-child checks or set up a separate appointment.

Clinical trials have proven the safety and effectiveness of both vaccines in children, and this is the best way to prevent COVID-19 infection, severe illness, hospitalization and death. Kids who have already had COVID-19 will be even better protected against the virus if they get vaccinated.

Side effects from COVID-19 vaccines for children are similar to side effects for adults. They may include fever, chills, headache, soreness and tiredness. Most are mild and go away after a day or two.
Parents can schedule their child to get a COVID-19 vaccine either through their Denver Health MyChart accounts or by calling our vaccine hotline at 303-436-7000.