Breast Cancer Survivor Spreading Word About Mammograms
September 29, 2022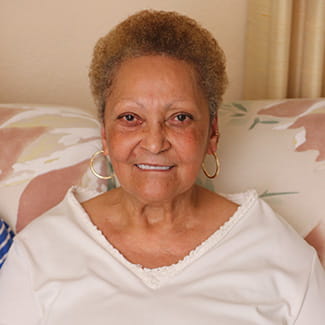 "Cancer is nothing to play with!"
Those six words are spoken strongly and regularly by a woman who survived cancer twice, and has committed her life to spreading the word to others about the importance of getting regular mammograms to stop cancer.
Patrice Branch has been a Denver Health patient for the past 25 years and has been getting mammograms every year for most of her adult life. Her last screening at Denver Health was with the Breast Imaging team in June 2022. At that appointment she learned she had breast cancer.
"We identified a very subtle breast cancer in Patrice that was less than one centimeter," recalled Randy Miles, MD, Director of Breast Imaging at Denver Health. Branch remembers Dr. Miles describing the cancer as a "little speck, about the size of a pea." The cancer was discovered using Denver Health's latest 3D imaging technology, which Dr. Miles recommends to all of his patients because it helps detect those subtle findings.
Because Branch got screened for breast cancer and because she has been consistently coming in for her screenings every year, Dr. Miles said he was able to catch this cancer early. Dr. Miles and his team performed an ultrasound and a biopsy on the same day and got Branch scheduled for a lumpectomy to have the cancer removed. Denver Health Oncology surgeon Nancy Taft, MD performed the surgery on Branch in late August and it was successful. "She's expected to make a full recovery and continue to live her life and do all of the things that she was doing before the surgery," said Dr. Miles. Branch enjoys collecting dolls and restoring them for children to give away at Christmas time, as well as a large windchime collection in her backyard.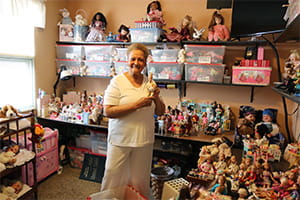 "People who don't get mammograms every year, they'll sometimes come in and they'll get a mammogram and already be at stage four cancer, which means you're going to lose a breast, and if not one, both," said Branch. "Who wants that? I don't!"
Branch has lost several family members to cancer and also survived bladder cancer a few years ago. That's why she spreads the word to all of her family, friends and neighbors about the importance of going in to get screened.
Best Place to Get a Mammogram in Denver
Branch is among the many patients who would recommend Denver Health as the best place in Denver to go to get a mammogram because of the ease of scheduling an appointment, convenience and positive patient experience.
"With Denver Health, they help you every step of the way," Branch said. "You call and tell them you want to make a mammogram appointment and they give you the flexibility of when and what time."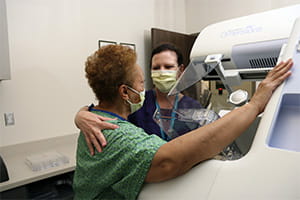 Branch had her mammogram on the fifth floor of the state-of-the art Outpatient Medical Center, which opened in 2021 in downtown Denver, but screenings are available at other locations around the city as well. Appointments are available Monday-Friday and can generally be scheduled within one day and up to 60 days out. Patients do not need an order from their primary care physician and can either call the mammography line at 303-602-4140 or use their MyChart account to schedule a screening. There are also appointments available at the Denver Health Mobile Health Center, which travels around the city to bring health care to people where they live and work.
A mammogram procedure takes around 15 minutes from checking in at one of Denver Health's imaging centers to completing the procedure. The actual imaging of the breast takes just 20-30 seconds for an image to be rendered.
"It's not painful like people think. It's just, you get a little squeeze," said Branch.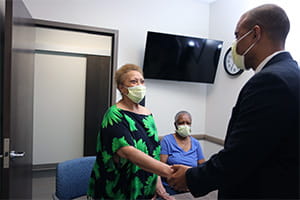 "Dr. Miles and his team are professional, personal, caring and considerate – and that helped a lot," said Berrilyn Branch, Patrice's sister who went with her to all her appointments. "This whole experience has been so calming. She was more prepared for her surgery this time than any previous surgery that she's had."
"I really want to get to know my patients," Dr. Miles said, smiling. "When I ask them, you know, 'How are you doing?' I really am interested in that response. I don't like to refer to our patients in a traditional sense. I really like to refer to them as partners or peers, because I feel like we have the same goal – ensuring the best outcome and that they receive the best care possible for them. I really want to make sure that patients feel comfortable, that they have a great experience and they can tell their family and friends about that experience so they can encourage them to come in and to receive their screenings as well."
Guidelines for Mammograms 2022
Dr. Miles can't stress enough the importance of talking with your doctor about your risk and then scheduling routine mammograms.
At Denver Health, you do NOT need a referral to get a screening mammogram if you are over 40 and have not had a mammogram within the past year. All patients need a referral for a diagnostic mammogram including those with changes to the breast such as new lumps, nipple discharge or skin changes.
Dr. Miles said it's great to have patients like Branch who are so passionate about telling her story and educating others.
"You have to be consistent with it," Branch said. "I'm very passionate about getting mammograms because people get cancer at any age and if they can detect it, however they can detect it, let them do it, because that way you can get it cured. If you wait too long, you lose your breast, you lose whatever part the cancer's on, and you don't want to do that when it can all be eliminated simply by getting a mammogram. So I mean, yeah, I tell everybody who's got ears about a mammogram and if they haven't had one, go get one!"
Make an appointment for a mammogram and learn more about our breast imaging services here.
Learn more about Denver Health's nationally-renowned breast cancer care services, including surgery and treatment options.