The Adult Urgent Care Center located near downtown Denver, Colorado, provides urgent care services for those who are in need of care after business hours or who cannot be seen by their primary care physician. Our urgent care hours are 7 a.m. - 8 p.m. Monday - Friday and 8 a.m. - 7 p.m. Saturday - Sunday.
The Adult Urgent Care Center is designed to be an alternative to the Emergency Department when your regular provider is not available. We suggest that you contact your provider or the NurseLine at (303) 739-1211 before seeking care.
The Adult Urgent Care Center can be found on the first floor inside Pavilion A. Entering from the roundabout, walk straight until you reach the Emergency Department and Adult Urgent Care Center entrance. See the map below for visual instructions.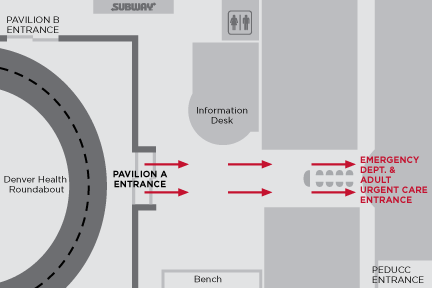 The Difference Between Urgent and Emergency
Urgent care treats illnesses and injuries that require medical attention, usually after hours or at night, when your regular doctor may not be available.
Emergency care treats more life-threatening injuries such as head injuries, serious broken bones, and injuries and illnesses that usually need treatment right away.