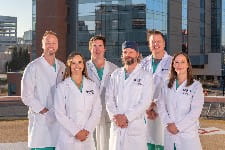 Your knees are one of your body's largest joints, supporting your body's weight and giving you the ability to move. Are your knees causing you pain as you conduct life's most basic tasks?
If you feel pain walking, climbing the stairs or even sleeping, it may be time to see the orthopedic experts at Denver Health. Our team is skilled in the treatment of damaged knees, helping you return to your everyday activities.
Depending on what is causing your pain, our specialists may recommend exercise, medication, surgery or a combination of treatments. When that is not enough, advanced and minimally invasive surgery may be able to provide quality, long-term outcomes.
Our orthopedic experts have experience with a variety of knee conditions.
Hip Conditions and Treatments
Anterior cruciate ligament injury (commonly known as ACL)
Avascular Necrosis of the Hip
Baker's cyst (popliteal cyst)
Cartilage injuries
Chondromalacia patella
Knee osteotomy
Knee dislocation
Knee replacement (knee arthroplasty)
Knee sprain
Leg lengthening
Ligament injuries/knee instability
Meniscal injuries
Patella fracture
Patella instability
Patellofemoral pain syndrome (runner's knee)
Peroneal nerve injury
Posterior cruciate ligament injury
Knee Replacement Surgery
Knee replacement surgery is a treatment for severe pain that may be caused by injury or arthritis. This surgery typically involves replacing the entire bone with metal implants and plastic spacers and lasts approximately 45 minutes.
Your doctor may recommend these surgeries if non-surgical treatment options have not been effective or if medical tests, such as x-rays, indicate that surgery is the best treatment option.
While most TJA surgeries are very successful, there are some potential complications to be aware of including blood clots, wound infection, infection around the hardware, malfunction of the hardware and nerve injury.
After surgery, patients should be able to resume most normal activities of daily living within 3 to 6 weeks following surgery. Home exercises and formal physical therapy are key to the recovery process.