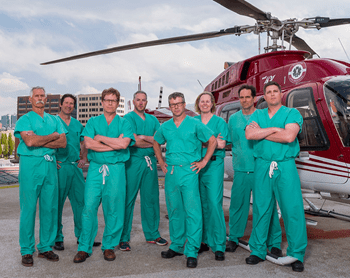 Our trauma surgeons are nationally and internationally renowned for both their clinical and research expertise. In 2017 alone, our surgeons gave over 175 presentations and published over 100 article in peer-reviewed medical journals.
For a full list of provider bios and details, use our Find a Provider search.
Mitchell Jay Cohen, M.D. FACS
The Bruce M. Rockwell Distinguished Chair in Trauma Surgery
Director of Surgery
Mitchell Cohen is the Bruce Rockwell Chair of Surgery at Denver Health Medical Center and Professor and Vice Chair of Surgery at the University of Colorado. Clinically he is an active Trauma, General and Acute Care Surgeon as well as a busy Intensivist. Dr. Cohen has an active NIH and DoD funded basic science research lab, which studies coagulation and inflammation perturbations after trauma. Specifically, his lab continues to examine the mechanisms of traumatic coagulopathy and mediators of protein C system activation after trauma. In addition to its basic science focus the Cohen research group transnationally studies similar topics through multiple clinical characterization and interventional trials aimed at elucidating the post trauma coagulation milieu and optimal resuscitation and treatment. Finally, the Cohen group has an active interest in in silico data and model driven approaches to modeling of biological and physiologic systems. In keeping with this his group has done extensive work on the use of Big Data towards improving personalized medicine and outcomes. His work includes multi scale modeling projects ranging from coagulation and endothelial biology to causal inference prediction of patient physiologic state and trajectory.