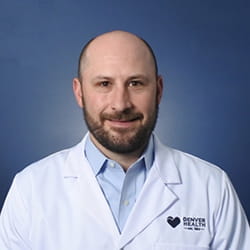 September 26, 2023
Denver - Denver Health has named Jacob Nacht, MD, as its new EMS/Paramedic Division Medical Director and Associate Director of Service for Emergency Medical Services within the Department of Emergency Medicine.
Nacht has spent nearly the last decade at Denver Health as he started his residency at the health system in May of 2014. An EMS fellowship followed from July 2018-July 2019, and he became an attending physician in August of 2019. During the pandemic, he served as Chief Medical Officer for Colorado's Alternative Care Site at the Denver Convention Center, working collaboratively with Colorado Department of Public Health and Environment, Denver's Department of Public Safety, and Emergency Management Services. Nacht served as the health system's Associate Medical Director in the Paramedic Division, assisting EMS operations, overseeing Denver Health's disaster preparedness, and serving as medical director to Adams County. He also has served as interim EMS/Paramedic Division Medical Director since last December. Nacht is board certified in both Emergency Medicine and in Emergency Medical Services by the American Board of Emergency Medicine.
"Dr. Nacht has provided tremendous leadership to Denver Health during some of our most challenging times," said Connie Price, MD, Denver Health Chief Medical Officer. "This role, while vital to Denver Health, also drives our connection with the community as we know the health of our city depends on a strong response to emergency situations."
Nacht will be responsible for strategy-setting and oversight for Denver Health's EMS services across all clinical, educational, and scholastic mission areas. This position will be responsible for working collaboratively with the EMS Medical Director for the Department of Safety for the City and County of Denver.
###
Denver Health is a comprehensive health and hospital system that provides quality care for the Denver Community. Medical teams deliver medical, dental and mental health care to Denver's population, proudly serving as the city's safety-net hospital for more than 160 years. Denver Health's commitment to our community includes educating the next generation of health care professionals and furthering critical research to benefit our patients and community.