Our Denver Health Employees, Facilities and Technology have received numerous accolades, honors and awards.
Healthy Business Certified Leader
Denver Health has been recognized by Health Links™ as a Healthy Business Leader. This certification recognizes that Denver Health has met an evidence-based set of benchmarks and promotes our organization as a champion for health, safety and well-being in the industry and community. Our vision is to create a thriving organizational culture of workplace well-being which focus on four key areas to include Physical & Environmental, Social & Community, Mental & Emotional, and Financial.
Colorado Healthy Hospital Compact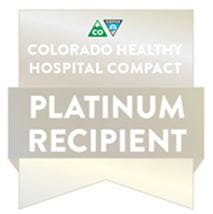 In 2019, The a Colorado Department of Public Health and Environment awarded Denver Health with Platinum Status in the Colorado Healthy Hospital Compact. The Colorado Healthy Hospital Compact is an agreement between Colorado hospitals to protect and promote the health of patients, families, visitors, and employees by improving the nutritional environment. Denver Health is continuously improving the nutritional offerings by way of healthier food, beverages, marketing, and breastfeeding support to create a culture and organization that promotes health and wellbeing. The Platinum designation was only given to three Colorado hospitals and is the highest level of recognition given. Denver Health is proud to be involved with this program which supports our vision to make Denver the healthiest community in the United States.
Denver Health believes in a healthy community, and we proudly serve only healthier beverages to support the well-being of our patients, visitors, and staff.
Breastfeeding Friendly Employer
Denver Health is a Breastfeeding Friendly Employer! Denver Health was recognized by Denver Public Health Institute and the Advancing Breastfeeding in Colorado project on May 16, 2019. Interested in learning more about becoming a breastfeeding friendly? Learn how from Denver Public Health Institute.

Breastfeeding Friendly Employers are in compliance with the 2008 Colorado Workplace Accommodations for Nursing Mothers Act which includes:
Written lactation policies or guidelines
Flexibility for employees to schedule breaks and work
Patterns to breastfeed or express breastmilk, and
Private space to breastfeed or express breastmilk