Our Denver Health Employees, Facilities and Technology have received numerous accolades, honors and awards.
Denver Health ranked No. 2 in US among academic medical centers
The Lown Institute recently ranked Denver Health among the most socially responsible hospitals in the nation for the third straight year. The Index "measures traditional metrics such as outcomes and patient safety, while adding new metrics like racial inclusivity, pay equity, and community investment to create a holistic evaluation of social responsibility." Last week, the health care research nonprofit released its rankings for the most socially responsible academic medical centers, and Denver Health was the best in Colorado and No. 2 in America, placing behind only St. Luke's University Hospital in Bethlehem, Pennsylvania. A huge thanks to the more than 8,100 employees of Denver Health for your dedication to keeping our health care system a beacon for health equity, value of care and outcomes.
Denver Health receives "Million Hearts" recognition
Denver Health was honored with the "Million Hearts" recognition from the Centers for Disease Control and Prevention. Denver Health was recognized for its work, commitment and successes in keeping patients, its workforce and community heart-healthy through well-being initiatives, nutrition education, tobacco cessation, cardiology services, and ensuring health equity for underserved populations. Million Hearts is a national initiative to prevent 1 million heart attacks and strokes by 2027 and focuses on implementing evidence-based priorities and targets to improve cardiovascular health for all.
Denver Health wins Data Star Award for first two quarters of year
The Colorado Perinatal Care Quality Collaborative awarded Denver Health's OB-GYN team with the Data Star Award for the second consecutive quarter of 2023 for excellence in data submission for the collaborative's SOAR initiative, which aims to reduce unnecessary cesarean delivery for low-risk pregnancies. Denver Health was one of 12 hospitals in the state in Q2, and one of six in Q1, that submitted a labor dystocia checklist for at least 80% of patients with NTSV cesarean deliveries by the data deadline. Congratulations to our OB-GYN team members!
Denver Health among America's Best Addiction Treatment Centers
Denver Health was recognized by Newsweek on Wednesday as one of America's Best Addiction Treatment Centers for 2023. Newsweek recognized 360 of the leading addiction treatment facilities in the U.S., based on a national online survey of over 4,000 medical professionals in the addiction treatment industry and accreditation data provided by the Substance Abuse and Mental Health Services Administration. Participants were asked to rate the quality of: care, follow-up care, service, and accommodations and amenities. Newsweek said the ranking reinforces Denver Health's reputation as a facility that provides benchmark-leading care and excellent services.
Healthy Business Certified Leader
Denver Health has been recognized by Health Links™ as a Healthy Business Leader. This certification recognizes that Denver Health has met an evidence-based set of benchmarks and promotes our organization as a champion for health, safety and well-being in the industry and community. Our vision is to create a thriving organizational culture of workplace well-being which focus on four key areas to include Physical & Environmental, Social & Community, Mental & Emotional, and Financial.
Colorado Healthy Hospital Compact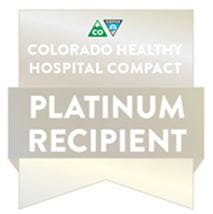 In 2019, The a Colorado Department of Public Health and Environment awarded Denver Health with Platinum Status in the Colorado Healthy Hospital Compact. The Colorado Healthy Hospital Compact is an agreement between Colorado hospitals to protect and promote the health of patients, families, visitors, and employees by improving the nutritional environment. Denver Health is continuously improving the nutritional offerings by way of healthier food, beverages, marketing, and breastfeeding support to create a culture and organization that promotes health and wellbeing. The Platinum designation was only given to three Colorado hospitals and is the highest level of recognition given. Denver Health is proud to be involved with this program which supports our vision to make Denver the healthiest community in the United States.
Denver Health believes in a healthy community, and we proudly serve only healthier beverages to support the well-being of our patients, visitors, and staff.
Breastfeeding Friendly Employer
Denver Health is a Breastfeeding Friendly Employer! Denver Health was recognized by Denver Public Health Institute and the Advancing Breastfeeding in Colorado project on May 16, 2019. Interested in learning more about becoming a breastfeeding friendly? Learn how from Denver Public Health Institute.

Breastfeeding Friendly Employers are in compliance with the 2008 Colorado Workplace Accommodations for Nursing Mothers Act which includes:
Written lactation policies or guidelines
Flexibility for employees to schedule breaks and work
Patterns to breastfeed or express breastmilk, and
Private space to breastfeed or express breastmilk