Celebrating The "Hispanic Heroes of Denver Health"
October 07, 2019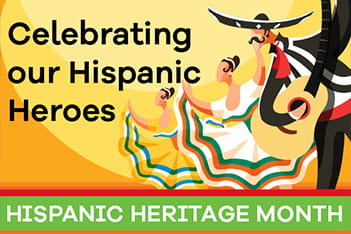 In honor of Hispanic Heritage Month, Sept. 15 - Oct. 15, Denver Health is recognizing some of the members of Denver's Hispanic community who are currently working with us to make a big impact on our Hispanic patients and the community at large.

Embracing Denver's diversity and commitment to provide the highest quality care to every patient who walks through Denver Health's doors is an important part of who we are. Read on to learn more about these "Hispanic Heroes of Denver Health."
Jose Reyes, Ed.D.
Dr. Jose Reyes is proud to serve on Denver Health's Community Health Services Board of Directors for more than 12 years, helping to promote and connect Denver Health with community groups that benefit our patients and their families. The Community Health Services Board is made up of 51 percent Denver Health patients, which Dr. Reyes said is a good thing because real patients give advice and guidance to Denver Health leaders.
Dr. Reyes has lived in Denver for nearly 21 years, has an extensive background in behavioral health care – including as a licensed professional counselor specializing in marriage and family therapy – and owns a diversity consulting group called
Cultural Competency Consulting
. He takes special pride in working with government groups to improve patient experience at Denver Health.
He has always looked at Denver Health as a leading health care system in Colorado. He said when the opportunity came to join as a board member, he was excited and jumped at the chance. He loves to meet with representatives from other safety net hospitals across the country to tell them about the great things going on at Denver Health and to compare notes to see if there are any things they are doing that the health care system can incorporate as well.
Dr. Reyes believes Denver Health is well-known within the Hispanic community because of both the quality and quantity of services offered to patients. He pointed out that Hispanic patients appreciate that Denver Health offers
Spanish-speaking providers and interpreters
to patients.
"That kind of attention to the population we are serving really gets around the community, and they appreciate it," Dr. Reyes said. "Denver Health has played a tremendous part in supporting the Hispanic community in Denver. Many of our staff are not only bilingual, but culturally competent; you need to understand the cultural piece to offer optimal health care."
He added that Denver Health's nine
Family Health Centers
in diverse communities around the city makes it easy for patients to stay healthy and reduce health care costs for everyone. Denver Health's 18
School-based Health Centers
offering health care to Denver Public Schools students right within their schools are other "great things," according to Dr. Reyes.
Finally, he points out the importance of Denver Health serving as a safety net hospital for the immigrant community. "That is crucial to the development of Denver as a city."
Pat Cortez
Pat Cortez is a Colorado native who has lived in Denver since she was in high school – and Denver Health has always been important to her and her family. Cortez, senior vice president and manager for Wells Fargo's Community and Government Affairs team in Colorado, says when the Denver Health Foundation recruited her to its board back in 2010, she accepted it over invitations from other Denver-area hospitals. She has proudly served on that board ever since.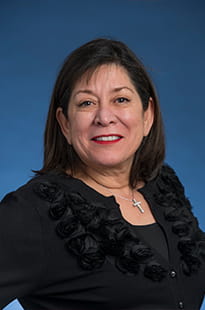 Growing up, Cortez said Denver Health was one of the few hospitals that were receptive to Hispanics and all people, regardless of their financial situations. She had family members who needed the services only Denver Health could provide. When she joined the
Denver Health Foundation
board, she was one of the few Latinas on any local hospital board.
Cortez said she is still excited about the work that Denver Health does, pointing out its importance as a
safety-net hospital
serving the entire community. She believes in its
Level One Trauma
team, which worked to save her brother-in-law after a horrible car accident.
"We were upset about the accident, but I was so happy he came to Denver Health," Cortez recalled. "His prognosis was grim – broken ribs, internal bleeding, bleeding in the brain, a slashed aorta – but those doctors and nurses worked around the clock, treating him like he was the President of the United States, and he lived because of that."
When asked how Denver Health has impacted the Hispanic community, Cortez had a long list of reasons. Topping that list is the number of babies that are born at Denver Health – one-third of all babies born in Denver – and the fact that the Denver Health Foundation, through its
Newborns in Need
program, makes sure that every new mother at Denver Health leaves with a care package, including a new car seat, if she is unable to afford one.
Cortez also marvels at the success of the
Federico F. Peña Southwest Family Health Center
. When it opened its doors in 2016, the community surrounding the Center had one of the lowest life expectancy rates in Denver.
"Part of the reason for that was an area desperate for health care. That clinic opened, and it is like the Taj Mahal of health care." In less than two years, it became one of the busiest Family Health Centers in the city.
"I'm so proud of that clinic," Cortez smiled. "It's still a gem – a place to go to get wellness check-ups, along with urgent, dental and behavioral health care. I grew up in that area and good health care was something that was missing there."
Cortez said we should celebrate Denver Health during Hispanic Heritage month and every month.
"We have all worked diligently to deliver the kind of service every human being deserves, regardless of whether they are Hispanic or not."
Fernando Carreira, M.D.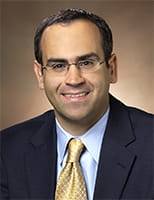 Dr. Fernando Carreira first came to Denver Health as an internal medicine resident in 2000, completing several rotations at the hospital over the next three years. From 2003-2004, he was chief medical resident at Denver Health and then completed a gastroenterology fellowship at the University of Colorado. He is now a gastroenterologist in a private practice in the South Denver metro area. He joined Denver Health's
Board of Directors
in 2014.
Dr. Carreira said he returned to work with Denver Health all these years later because he has a special place in his heart for Denver Health's patients.
"As a resident, I worked at the
Sam Sandos Westside Family Health Center
and loved the environment and care provided to my under-served Hispanic patients," Dr. Carreira recalled. "These patients did not and would not clearly have experienced such great care if it wasn't for Denver Health."
He also reflected on taking care of one memorable elderly Mexican patient in the
intensive care unit
. "Even though he ultimately passed away, his family was forever grateful to the staff for their top notch care and efforts to communicate and include them in the care of their loved one, even through the dying process."
Beyond individual patients, Dr. Carreira sees a bigger impact Denver Health is having on the Hispanic community. "Numbers speak for themselves. Over half of Denver Health patients identify as Hispanic. Considering the magnitude of patients served by Denver Health (more than 24,000 admissions in 2018), the role provided by Denver Health is extraordinary. Outside of schools, public transportation and maybe a few other organizations, I would bet few other organizations have such a direct impact on the Hispanic community in Denver. We want to be there for the Hispanic population and make efforts to continue improving our care for them into the future."