Denver Health's department of Anesthesiology and Perioperative Medicine is a team of physician anesthesiologists, certified registered nurse anesthetists, nurse practitioners and anesthesia technicians who are dedicated in providing care to the highest standard throughout the perioperative period.

Our spectrum of care can range from several weeks to months before surgery through our Preanesthesia Clinic (PAC), immediately after surgery in the Post Anesthesia Care Unit and to several days after surgery while in the hospital. Our goal is to evaluate and help manage your medical problems while you safely transition from one stage of perioperative care to the next.
Our Services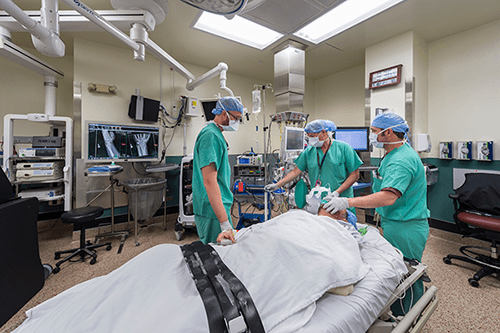 The perioperative period spans the spectrum of care for a patient throughout their surgical operation and can be divided into three stages:
Preoperative Care:

care provided before a surgical operation

Intraoperative Care:

care during an operation and ancillary to that operation.

Postoperative Care:

care after a surgical procedure
Preanesthesia Clinic
Patients are often referred to the Denver Health PAC to undergo a "preanesthesia evaluation," which may involve a physical exam as well as various tests to ensure they are well prepared for their surgery or procedure. Patients receive additional education about their day of surgery, such as which medications to take and how long to go without consuming food or liquid prior to surgery. Not all patients require appointments in the PAC. If your surgeon does not feel you require one, please ensure you have been given all necessary instructions regarding your medications prior to leaving the surgical clinic.
Obstetric Anesthesia
Our Obstetric Anesthesia care team works closely with our Maternity and Pregnancy team to prioritize your safety and to help manage your pain by tailoring each patient's individual care to facilitate a memorable and comfortable experience. We help manage blood pressure problems and bleeding problems related to delivery or surgery to breathing and pain management during labor and caesarean section (commonly know as C-section).
Regional anesthesia is the most common method in managing pain from labor or during a caesarean section and is commonly done with an epidural or a spinal. An epidural is generally offered in managing pain during labor with the advantage that it can also be used if a caesarean section is later deemed necessary. Alternatively, if you are undergoing a scheduled caesarean section, we will commonly offer a spinal anesthetic. However, during an emergency, a general anesthetic will more likely be offered or given if you are unable to consent to anesthesia.
Appointments
Our PAC team is one of the busiest in the city, evaluating more than 3,000 patients each year and playing a vital role in ensuring the safety of our pre-surgical patients. For this reason, PAC appointments are generally brief (less than an hour), and the schedule fills very rapidly. The majority of these visits are completed via telemedicine appointments. Patients will receive an appointment time and date and will receive a telephone call from one of the Nurse Practitioners from the clinic. Personal medical history will be reviewed over the phone unless there is an indication for pre-surgical testing such as an EKG or Labs, which may require the patient to come in person to the clinic or procedural area, such as the Lab or Cardiology. Patients scheduled for surgery at Denver Health may be assigned to have their procedure in our Ambulatory Surgery Center.