Getting Back to Being a Kid After Crushing Hand Injury
September 15, 2021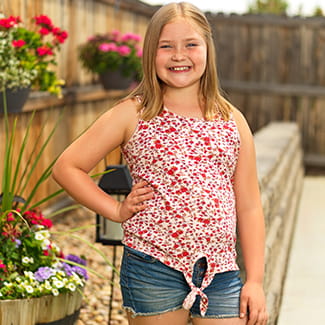 Denver Health's Pediatric Trauma Center Provides Specialized Orthopedic Trauma Care for Children
Olivia Doehler looks like any other eight-year-old girl. A quick chat with her reveals a love of stuffed animals, playing on the monkey bars, music as a budding young pianist, playing softball and basketball, and excelling in school. Ask her what makes her special, though, and she will proudly show you just how far she's come in the past year and a half.
The Accident
A few scars remain on her hand from a day in April 2020 -- a small sign of a big accident that could have turned out a lot worse. She was playing at her cousin's house, riding on a toy bike known as a Power Wheel, going down the driveway. A truck was backing down the driveway at the time and she was behind it, when her bike tipped over and she fell behind the car. "There was a car going down to park, and my hand slipped and it got ran over," Olivia explained, without revealing any of the fear or worry that filled the day her right hand was run over by a pick-up truck. Looking back on it, she remembers being "a little scared."
Her father, Dan, witnessed the accident and immediately dove into action, likely preventing her head from being slammed into the tire.

"As a parent this is probably the most difficult thing I've ever had to go through in my life," Dan said. "The biggest thing that was going through my mind at the time was the future, would her hand be amputated, would she lose fingers? Her future, as a student, as an athlete, as a human."

Olivia's mother, Bailey, was at home and on the receiving end of an emotional phone call from Dan. "He calls me and says, 'We're in an ambulance and we're going to the hospital,'" she recalled. "It wasn't until we got to the hospital, and I actually got to see her hand that I realized how bad the injury was."

Olivia was initially taken to Children's Hospital Colorado, where it very quickly became clear that Olivia's injury was significantly worse than they thought and needed a specialized team. So they made a phone call to Denver Health.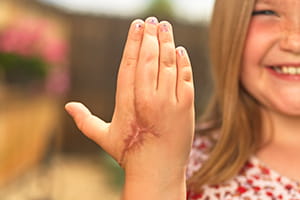 Putting Olivia's Hand Back Together at Denver Health
"When Olivia came in, I could see that it was quite a severe injury," said Denver Health Orthopedics Chief Hand surgeon Kyros Ipaktchi, MD. Dr. Ipaktchi and his team are the only ones in the state of Colorado offering on-call 24/7 pediatric hand microvascular surgery. Denver Health's Orthopedic Trauma team routinely handles the most serious types of injuries through the hospital's Level One Trauma Center for adults and Level Two Trauma Center for children. Denver Health also has a pediatric Intensive Care Unit (ICU), which specializes in taking care of kids with these types of microvascular surgeries. It's the only place in Colorado able to provide this level of care.

"It was a crushing injury through the mid hand and the bones were displaced," Dr. Ipaktchi continued, describing how her hand became mangled and the nerve damage she suffered. "And with an injury like that, what happens is that very often you have a disruption of all the blood vessels in your hand. And so we started out by taking her immediately up to the operating room, so we had to go through the follow-up surgeries. And then also skin grafting that fortunately worked out well." Olivia went through a total of three surgeries plus the skin graft. She spent five days at Denver Health, then several months coming back for rehabilitation to get back to doing the things she used to enjoy before the injury.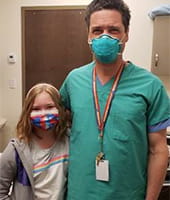 "I was surprised at how well they were able to put everything back together and make it look like her hand," Bailey said. "Dr. Ipaktchi was genuinely concerned about Olivia and her recovery. He even gave us his cell phone number, and we could text him pictures and ask, 'Is this normal?', which we did a few times. And he always answered, as best as he could quickly. And I was really thankful that we had that connection with the doctor himself."
"He was very genuine, a family man," Dan added. "He could see that we were hurting. So he just wanted to take care of us."
Dr. Ipaktchi enjoyed connecting with Olivia, as he and his team do with all of their patients. "When I saw Olivia come back to the Orthopedics clinic after rehabilitation, there was some shining in her eyes and she was really excited to kind of show me what her hand was doing and how she was doing," he recalled. "And that was, that was amazing for me to see her do so well."
Dan and Bailey recognized that it was an entire team at Denver Health, from the nurses to the physical therapists to the medical assistants and the
Child Life
team – all caring for his daughter and bringing her back from her devastating injury. "As a high school coach, I understand how that works; it's not just one individual, it's an entire team," he said fighting back tears. "You know, there's no superstars on the team, and if everyone works together, you create a common goal and the goal is to get Olivia back to normal. And they could definitely raise that trophy, knowing that they accomplished that."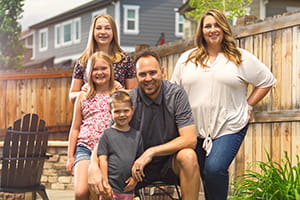 Back to Being Olivia Again
Less than a year after her injury, Olivia is a healthy and active eight year old. "It was like five or six months later and I went back to school and started writing, which I was really proud of," Olivia said with a big smile on her face.

Now that over a year has passed, this caring and kind, energetic, smart, funny and athletic little girl has quite a story to tell. Most people wouldn't know anything happened to her.

"She's overcome adversity, persevered – yeah I mean, she's back to normal, she's "Liv," Dan Doehler reflected. "We're super thankful."

And for Olivia, she's thankful, too – you can see it in her eyes and in her actions, and even in a few simple words perfectly said by a typical eight-year-old: "I want to thank Ipaktchi, the nurses that gave me stuffed animals and stuff. I want to thank them."