Implementation
The Center for Addiction uses a standardized method for implementing new initiatives; the process is built on innovation, piloting, understanding what is proven to be effective, and then replicating. With a goal of securing sustainable funding to continue what works well. We maintain a focus on quality improvement throughout the entire process to ensure we are learning and bolstering existing processes in an ongoing manner.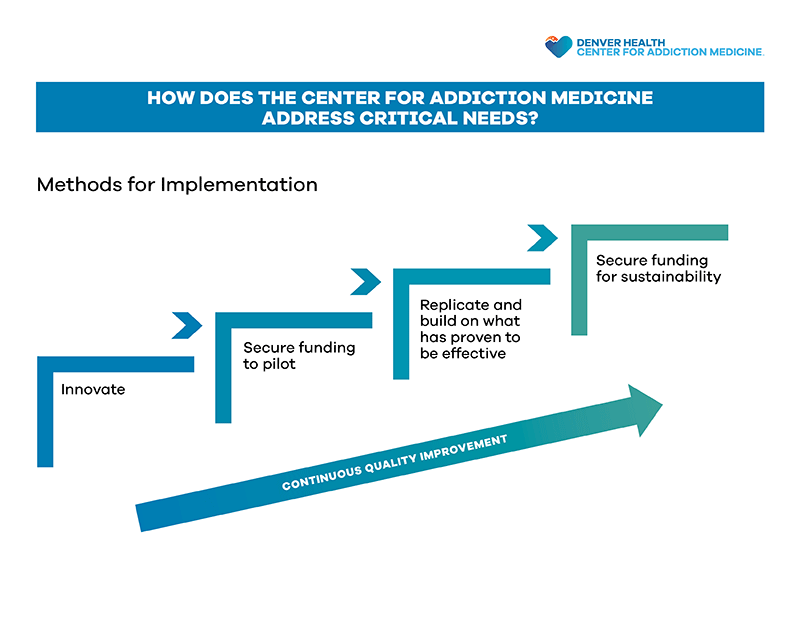 Programs:
Treatment on Demand
This treatment program helps patients with substance use disorders who are hospitalized or in the Emergency Department get assessed and linked into ongoing treatment at Denver Health or with one of our community partners. This work has inducted hundreds of new patients on Medication Assisted Treatment and seen post-discharge linkage to treatment increase significantly.
Partnership with Sobriety House
This program offers direct linkage from the Denver Health hospital to Intensive Residential Treatment (IRT) for patients that are assessed to meet those treatment needs. Patients are transferred to IRT at Sobriety House upon hospital discharge, where their addiction is treated while they continue receiving addiction treatment medication and other health services from Denver Health. This is particularly helpful for our patients who have long hospital stays, complex health issues related to their substance misuse, and are ready to engage in residential treatment; many of whom are experiencing homelessness.
HIV/HCV Testing and Linkage to Care
All patients enrolled in Outpatient Behavioral Health Services are offered HIV, hepatitis B, and hepatitis C tests as part of their intake labs, with repeat screening on an ongoing basis as needed. A patient navigator works will all individuals who test positive to provide health education and support with accessing HIV or viral hepatitis treatment. Learn more about this HIV and Hep C initiative.
Community Line
This program offers people in the community substance use screening, referrals, and information related to accessible opioid treatment and non-opioid treatment options. For screening and referrals to services, please call the Community Line at 303-436-5711.