Implementation
The Center for Addiction uses a standardized method for implementing new initiatives; the process is built on innovation, piloting, understanding what is proven to be effective, and then replicating. With a goal of securing sustainable funding to continue what works well. We maintain a focus on quality improvement throughout the entire process to ensure we are learning and bolstering existing processes in an ongoing manner.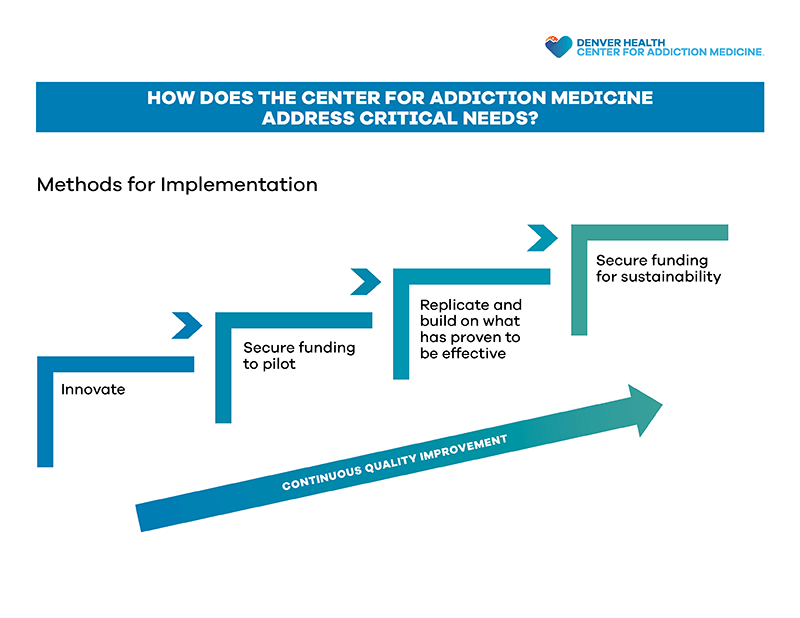 Programs:
Treatment on Demand
The Treatment on Demand program is staffed by on-call licensed therapists who work with persons with opioid use disorder in the ED, and in Psychiatric Emergency Services, to encourage them to enroll in regular medically assisted treatment.
The program is Denver's first medically assisted opioid treatment program that provides services "on demand." Under other circumstances, persons with opioid use disorder have to be referred for medical treatment in a process that can take as long as three weeks. A core function of this program is to increase access to immediate care and reduce the length of admission time at receiving outpatient clinics.
A person with opioid use disorder will typically present at the ED when they are experiencing withdrawal. Denver Health has one of the few ED's in the United States that already treats these patients with buprenorphine or methadone-- that alleviates withdrawal symptoms and helps patients on the road to recovery. Under this program, the therapists conduct a "biopsychosocial assessment" of the patients at the ED bedside, and, if clinically appropriate, enroll them into ongoing buprenorphine or methadone treatment the same day.
Before discharge, patients are referred to an opioid treatment clinic at Denver Health or among one of our community partners. Patients are expected to go to the clinic every day to receive their dose of buprenorphine. They also receive psychotherapy and specialized medication management by trained physicians..
Partnership with Sobriety House
This program offers direct linkage from the Denver Health hospital to Intensive Residential Treatment (IRT) for patients that are assessed to meet those treatment needs. Patients are transferred to IRT at Sobriety House upon hospital discharge, where their addiction is treated while they continue receiving addiction treatment medication and other health services from Denver Health. This is particularly helpful for our patients who have long hospital stays, complex health issues related to their substance misuse, and are ready to engage in residential treatment; many of whom are experiencing homelessness.
HIV/HCV Testing and Linkage to Care
All patients enrolled in Outpatient Behavioral Health Services are offered HIV, hepatitis B, and hepatitis C tests as part of their intake labs, with repeat screening on an ongoing basis as needed. A patient navigator works will all individuals who test positive to provide health education and support with accessing HIV or viral hepatitis treatment. Learn more about this HIV and Hep C initiative.
Community Line
This program offers people in the community substance use screening, referrals, and information related to accessible opioid treatment and non-opioid treatment options. For screening and referrals to services, please call the Community Line at 303-436-5711.
Substance Use Navigation (SUN)
Denver Health has been a partner with the Substance Use Navigation (SUN) program since its inception in 2018. Through a subcontract with the City and County of Denver, Denver Health provides staffing and support services to SUN participants through linkage to substance use, co-occurring, and related needs, including opioid use and stimulant use treatment.
The SUN team works closely with individuals experiencing homelessness, offering compassionate support and guidance throughout their treatment and recovery journey. They help navigate the complexities of accessing substance use services, connect people to appropriate resources, and provide assistance including phones, transportation, temporary housing ect. to help community members engage in care.
Access Transformative Outreach Program (ATOP)
Access Transformative Outreach Program (ATOP) helps Colorado Access members with severe substance use disorders who have been to withdrawal management (detox) or an emergency department more than 18 times in the past six months. The program aims to improve a patient's quality of life through services offered and by reducing drug and alcohol use and dependence on emergency departments and detox programs.
ATOP uses a flexible and comprehensive approach that allows our care team to proactively support your goals toward well-being. Each member of our team brings a unique set of skills, knowledge, and/or lived experience. The best part about ATOP is: Our care team is community-based. We go to where our patients are in the community, many of whom are experiencing homelessness.
Utilizing Peers for Linkage, Innovation, and to Foster Thriving (UPLIFT)
Utilizing Peers for Linkage, Innovation, and to Foster Thriving (UPLIFT) is establishing a Peer Support Hub and model of care that: is led by people with lived experiences reflective of our patients; builds a peer affinity group/learning collaborative and provides professional structures, mentorship, support, and opportunity for Peer Specialists to thrive; and offers innovative approaches to aid recovery and address inequities among people living with SUD at the intersection of homelessness and justice-involvement. In addition, UPLIFT has helped build a career ladder for peers at Denver Health. These efforts aim to recruit, retain, and grow our experts with lived experience.