Coronavirus Update
Due to the COVID-19 pandemic, visiting policies are subject to change. Click here for the latest visitor hours and visitor policies.
About Visiting Hours at Denver Health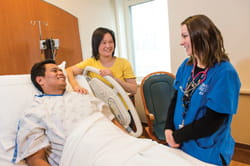 Denver Health welcomes you to have friends and family of your choice visit you while you are in the hospital without regard to race, color, national origin, sex, sexual orientation, gender identity or expression, disability, or age. We ask that all visitors keep the following guidelines in mind when visiting a patient:
Keep visits short,
Limit the number of people at the bedside to two persons,
Speak quietly,
Sit on a chair instead of the bed,
Check with a nurse before bringing food, drinks, vitamins, food supplements or other medicines to a patient,
Please do not visit the patient if you have a cold, sore throat or fever, and
Please wash/ foam your hands before entering a patient's room.
Visiting Hours
Visiting hours and rules may differ from unit to unit; please check with the nurse about specific hours and rules. If visiting during a holiday week, please be sure to review our clinic closures and holiday hours.
The Pavilion for Women and Children is a secure unit and all visitors must check in with the security guard on the first floor to be granted access to patient rooms.
Young Visitors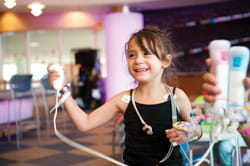 When children come to visit in the hospital, please make sure they are supervised by an adult at all times. For the child's benefit, please check with the nurse before bringing a child into a patient's room. Several child-friendly areas are available in the hospital for children who have an adult with them:
Thunder Zone:
The Thunder Zone is a resource center with two computers and a printer. The center is open Monday – Friday, 9 a.m. – 4 p.m., and is located in the glass atrium on the first floor of Pavilion C, in between the gift shop and security desk.
Kids Zone:
The ZONE is a therapeutic and educational kid-friendly room for pediatric patients and their families as well as for children visiting adults in the hospital. The ZONE is designed to meet the special needs of children. The ZONE is located in two separate areas on the first and second floor of Pavilion C and features spaces for relaxing, playing and learning.
Patient Privacy
Following the enactment of the federal Health Insurance Portability and Accountability Act of 1996 (HIPAA) requirements governing patient privacy effective April 14, 2003, Denver Health must ask patients if they would like to be listed in the patient directory. If the patient chooses to opt out of the directory, Denver Health cannot release information about the patient or acknowledge whether he or she is a patient in the hospital.
If the patient has opted to be included in the directory, Denver Health can release only specific patient condition information to anyone, including media, who asks about the patient by name. If the patient is in no condition to respond as to whether they want to be listed in the patient directory, Denver Health will not list the patient in the directory to protect their privacy.
Regardless of how a person arrives at the hospital, conditions surrounding his/her illness or injuries, HIPAA requires the hospital to ensure patient's privacy.
Patient Information Desk
For information about a patient, please call 303-602-1240 between 7:00 a.m. - 9:00 p.m., Monday-Friday or 7:30 a.m. - 9:00 p.m. on weekends. During all other times, please call the main hospital number at 303-436-6000.
Hotels and Lodging for Visitors
Denver Health has contracted rates with six local hotels; these discounted rates are offered to our patients, patients' families, contractors, guests to Denver Health, employees, and the family of employees. In addition to the contracted hotels, Denver Health has eight hotels that offer courtesy discounts for Denver Health. While we do not have a contract in place with them, a Denver Health discounted rate may be available. Rates and discounts are not negotiated by Denver Health, and are subject to availability and change without notice. View a list of participating hotels.