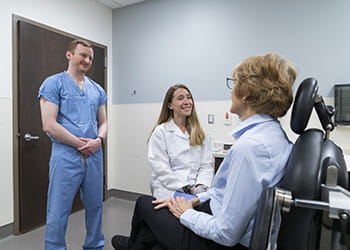 Welcome to the Oral & Maxillofacial Surgery Department at Denver Health. Our team of Oral & Maxillofacial Surgery surgeons are all board certified by the American Board of Oral and Maxillofacial Surgery, specializing in reconstructive surgery of the face, facial trauma surgery, oral cavity surgery, and surgery of the head, neck and jaw. Denver Health is one of the world's leading level one trauma centers, which provides a unique interdisciplinary and multidisciplinary experience to provide the best care and best outcome for all patients.
Our diagnosis and consultative practice is located in the heart of Denver, Colorado within the state-of-the-art Outpatient Medical Center. We care for children and adults on both an outpatient and inpatient basis, depending on what type of clinical evaluation is needed. We are committed to delivering the highest quality of care and strive to develop a personalized treatment plan for all patients. Our mission is to improve our patients' lives through evidence-based practice and cutting-edge technology to restore a person's function, appearance and their ability to live normally.
If you are a referring provider, please select one of the following options:
Insurance/Billing
Why Us?
Choosing Denver Health for Oral & Maxillofacial Surgery means you have chosen a clinic located on the same campus as our world-leading Level One Trauma team, with all of its skills and expertise available offering patients the highest quality of trauma care in the region when needed. We have an integrated care model which means our oral surgeons work together with medical teams in other specialties throughout the hospital system to ensure the best possible care for all our patients.
If you would like to make an appointment, please call 303-602-8744.
On the day of your appointment, please bring photo identification and insurance information to your appointments. Please be prepared to answer basic questions related to your medical history.
Services Offered by The Oral & Maxillofacial Surgery Team
Facial and Jaw Trauma
Facial trauma is bone or soft tissue damage to the face caused by motor vehicle accidents, assaults (including gunshots), sports injuries, falls, animal bites, etc. Facial trauma may cause a permanent loss of function (seeing, chewing, speaking, swallowing) and disfigurement if not treated.
Facial fractures
Broken jaw
Orbital augmentation/reconstruction
Tracheostomy (opening created in neck)
Facial Reconstruction/Cosmetic surgery
Facial Implant Surgery
Post-trauma nose reconstruction
Vermilionectomy (lip surgery)
Scar revision
Dental Alveolar
Bone grafting
Dental implant surgery (See example in this video)
Adult and pediatric tooth extractions
Wisdom tooth extraction
Expose & Bond (E&B)
Oral & Facial Pathology
Parotidectomy (salivary gland removal)
Sublingual gland (below tongue) removal
Submandibular gland (back of mouth) removal
Oral biopsies
Jaw tumors and cysts
Pre-Prosthetic Surgery
Dentures
Tori Removal (excess bone in jaw)
Orthognathic Jaw Reconstruction
Jaw surgery, also known as Orthognathic surgery, corrects irregularities of the jaw bones and realigns the jaws and teeth. Jaw surgery may also be corrective which improves your overall facial appearance. Correcting alignment of your jaws and teeth with jaw surgery can result in:
Balanced appearance of your lower face
Improved function of your teeth
Health benefits from improved sleep, breathing, chewing and swallowing
Improvement in speech impairments
Secondary benefits of jaw surgery may include:
Improved appearance
Improved self-esteem
Specific jaw surgeries offered at Denver Health:
Jaw Deformity Surgery
Lower jaw surgery (mandibular osteotomy)
A mandibular osteotomy can correct: receding lower jaw or protruding lower jaw.






Chin surgery (genioplasty)
A genioplasty can correct a small chin (deficient chin). A small chin often accompanies a severely receded lower jaw.
Temporomandibular Joint Surgery (TMJ)
OSA Dental Appliances (snoring/sleep apnea)