Overcoming LGBTQ+ Health Disparities at Denver Health
June 07, 2022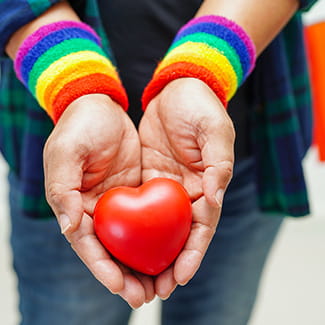 Denver Health is proud to be an ally and serve the health care needs of LGBTQ+ communities. We stand with many Coloradoans that have worked tirelessly to pass legislation that allows gay, lesbian, bisexual, transgender, and non-binary people, as well as any others who identify as LGBTQ+, to live their lives with equity and basic human rights.

We also recognize that people who identify as LGBTQ+ are still fighting the battles that generational inequities and the absence of basic human rights has had on the freedom and well-being of LGBTQ+ communities over the years.

As an anchor institution, Denver Health is a place-based, mission-driven hospital working to improve the long-term health and social welfare of the entire community. This includes reducing discrimination in health care settings that endanger LGBTQ+ people's lives. We do not refuse medical care for lack of pay, for personal circumstances, or based on any racial, cultural or identity factors that an individual embodies or embraces.
Denver Health recognizes that with the historical context of health care discrimination against LGBTQ+ people, individuals who identify as part of the LGBTQ+ community are often hesitant to seek care whether they have experienced firsthand discrimination or not. This includes hesitation to seek even lifesaving remedies like mental health counseling, primary care, HIV prevention and treatment, gender affirming surgeries and preventative screenings.
LGBTQ+ Affirming Care at Denver Health
Denver Health's LGBTQ+ Health Services trains staff and providers to address the specific needs of LGBTQ+ communities. It is also important to Denver Health to ensure that LGBTQ+ patients receive affirming care in safe spaces throughout our hospital system. It is our hope that LGBTQ+ patients will feel comfortable at Denver Health and receive welcoming medical care from affirming staff and providers who can meet their health care needs. The Denver Health team is working towards educating all staff to acknowledges patients by their affirming pronouns, name and gender identities to ensure that individuals are acknowledged and recognized appropriately.

If you or someone you know is a part of the LGBTQ+ community and needs care, please contact one of our dedicated LGBTQ+ patient navigators at 303-602-5699.

To learn more about services available through LGBTQ+ Heath Services at Denver Health, please visit us here.