What Does Pride Mean?
June 01, 2022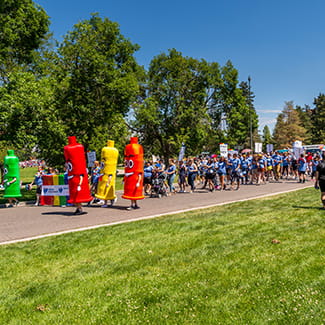 June is LGBTQ+ Pride Month, a time to recognize and celebrate lesbian, gay, bisexual, transgender, and non-binary individuals, as well as any others who identify as LGBTQ+ in our community. Denver Health is proud to serve Denver's LGBTQ+ community with an LGBTQ+ Health Services care team that is specially trained in how to provide sensitive and affirming health care to all. We are also proud of our team members who identify as LGBTQ+ and are honoring them all month long with special events, including a special Pride Day celebration during our staff Days of Celebration event. The theme of this year's Days of Celebration is "I, You, We Belong."

In the spirit of this year's Pride celebrations, we asked a few of our team members to answer the question "What does Pride mean to you?" These are their heartfelt and thoughtful responses: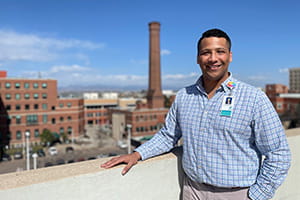 Andrew Lewis
Pronouns: he/him/his
Department: ACS Laboratories
Title: ACS Laboratory Supervisor
"To me, Pride means knowing that it is okay to be yourself even if you do not necessarily see validation of that. It is not only about supporting ourselves, but also the ones we love in order to bridge the gap of marginalization."
Katie Hyzy
Pronouns: she/her/hers
Department: Integrated Behavioral Health
Title: Behavioral Health Consultant

Katie Hyzy, Behavioral Health Consultant
"To me, Pride means to show up to my life and in my relationships in a way that is unequivocally authentic and whole. To celebrate and live the truth of who I really am without fear, shame or doubt."
Kevin Kamis
Pronouns: he/him/his
Department: Public Health Institute at Denver Health
Title: Research Associate
"To me, Pride means loving and caring for yourself and for your community. At Denver Health I am able to show up to work as my full, authentic (gay) self, and for this I am extremely grateful."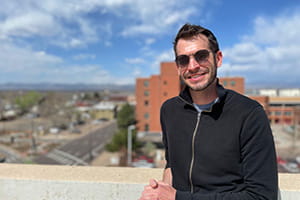 Mariah Hoffman, MD
Pronouns: she/her/hers
Department: General Internal Medicine, HIV Primary Care
Title: Primary Care Physician in the Webb Center for Primary Care Adult Clinic and Medical Director/Primary Care Provider in the EIS Primary Care Clinic
Dr. Hoffman said that she finds the meaning of Pride in her daily work at Denver Health.
"I deliver LGBTQ+ affirming care at Denver Health by listening to the individual needs and goals of each patient and finding ways to meet those goals. I believe each person's unique story can guide their care and I love finding ways to walk this path with each patient providing care based in sound science.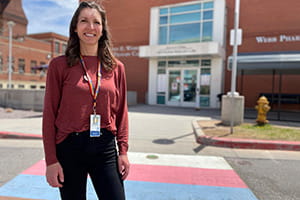 "As an ally to the LGBTQ+ community, I hope every patient knows that they will be treated with respect at Denver Health. I want each person to feel that they have found a safe place to receive care with us and that we will do our best to meet their goals, providing the most inclusive care possible."
Rich Zavala
Pronouns: he/his/him
Department: Food and Nutrition Services
Title: Lead Cashier
"The meaning of pride for me is the person I am today. With the struggle of growing up dealing with bullying and depression, I am stronger today and proud to be who I am and have become.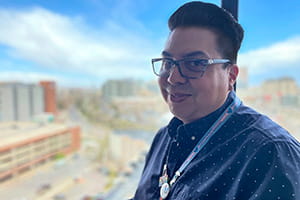 "I celebrate my Pride daily by wearing my rainbow lanyard, pronoun pin and being my genuine self! Denver Health supports and celebrates the LGBTQ+ community with LGBTQ+ Health Services available, employees wearing rainbow and trans-lanyards, LGBTQ+ colored crosswalks and LGBTQ+ workshops."
Joshua Derrig
Pronouns: he/him/his
Department: Public Health Institute at Denver Health
Title: Research Associate
"To me, Pride means 'daring to be' and show up in this world, as your most authentic self.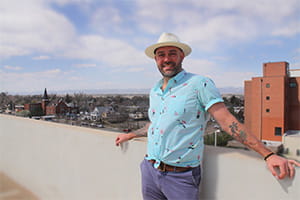 "It's an opportunity be honest, compassionate, loving, expressive and vulnerable. Pride is also a time of celebration and reflection – celebrating how far LGBTQ+ people have come, the inherent rights we've had to fight for and the vast spectrum of love we share, while also reflecting on the lives we've lost in our fight, the obstacles and hate we've overcome, and the ongoing battle for true equality. Pride is resistant. Pride is resilient. Pride is acceptance. Pride is unapologetic. Pride is love."
Tracy Scott
Pronouns: she/her/hers
Department: LGBTQ+ Health Services
Title: Administrative Director
"I am proud and honored to work with a team dedicated to serving LGBTQ+ communities. Last year more than 850 new LGBTQ+ patients established primary care at Denver Health, and we are on track to surpass that number in 2022.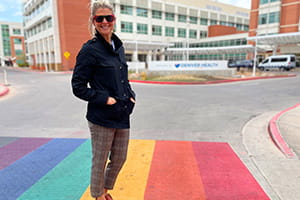 "Wearing Pride lanyards, creating safe and affirming clinical spaces and asking people their pronouns are a few ways we can continue to become a national leader in LGBTQ+ health care. LGBTQ+ Health Services is grateful to our colleagues for making Denver Health an LGBTQ+ affirming organization."