Monday, August 8, 2016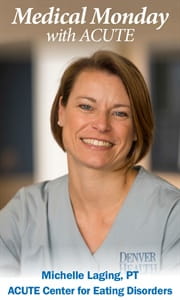 Hello all! As primary physical therapist at the ACUTE Center for Eating Disorders unit, I am excited to share with you what physical therapy is and what it entails specifically on our ACUTE unit!
That sounds great, but I already know what physical therapists do.
Great, but do you really? Most people are aware of what physical therapy is, but let's look at it in a bit more detail. Please be patient – this is a long definition from the APTA (American Physical Therapy Association) that I have paraphrased for you. I have boldfaced some key terms that I feel deserve a pause and a thought; take a moment to let it wash over you. "Physical therapy is…the restoration, maintenance, and promotion of optimal physical function. Physical therapists are health care professionals who help individuals by…enhancing health, well-being, and quality of life. Their services prevent, minimize, or eliminate impairments of body functions and structure, activity limitations, and participation restrictions. Physical therapists play a vital role in today's health care environment and are recognized as essential providers of rehabilitation and habilitation, and prevention/risk-reduction services." Whew! It was difficult to restrain myself from underlining the whole definition, but let's focus on the key pieces such as optimizing physical function, enhancing quality of life, and preventing further injury. As a former patient of mine stated so well, "Awesome, you mean I get to do things like a normal person does!?"
At this point you might be thinking . . . hmmm, I'm following, but what does physical therapy have to do in aiding people with eating disorders?
As it turns out, quite a bit! We are an integral part of the interdisciplinary team and meet with our patients early on in their length of stay. Our initial assessment consists of functional mobility tasks such as bed mobility, sitting to standing movements, and walking a few laps on the unit. All of this is followed by a quick balance assessment to capture a baseline understanding of that patient's risk for falling. Our first and number one goal is to ensure safety for our patients to be up and about on the unit. I once had a patient say to me, "I was really concerned about coming here! I thought I would leave more debilitated because I would not be allowed to move. I am thrilled to be doing some movement with you!" Once patients have been cleared to walk a prescribed amount of laps on the unit, physical therapy continues to work with them a couple of times weekly. We provide basic movement programs that focus on core stabilization and lower extremity stretches.
Okay, but I don't have any issues with walking . . . how would physical therapy benefit me?
Wonderful, you are completely independent and safe with our basic assessment…we are beyond thrilled! Our services do not end there though. We continue to work through the nutritional rehabilitation process of medical stabilization and focus on functional training activities. Typically, our therapeutic movements target core stabilizers, glute activation, and overall posterior chain strengthening. Keep in mind, however, that our patients have a voice in their recovery and all the physical therapists on the ACUTE unit fine-tune skills to optimize individual goals of recovery. Pretty cool, huh? Let's say that your goal is to return to carrying your children up the stairs safely. Great! We will break the movements down and practice throughout our sessions until you have nailed it. Or, perhaps you have a painful hip or knee that has been bothering you. It's unfortunate that you are dealing with that as well, but we can pay attention to those impairments in our sessions to try to relieve those symptoms. Or, finally, let's say you are really into yoga and relaxation. We can be pretty crafty on how we interweave skills together into a meaningful session for you. Keep in mind, we try our best to harness what best interests you, but have an overall holistic approach of what is appropriate during this portion of your recovery…let's work together to figure out how physical therapy can benefit you during your stay on ACUTE.
What if I don't want to do any physical therapy?
You are the MVP (most valuable player/patient) and, of course, you do not have to participate in continued therapy services. If you recall, our first and number one goal is to establish safety on the unit. We would love to meet with you initially to establish that baseline level of functional mobility and just ask that you keep an open mind about therapy services. Who knows? You might really enjoy having something else to occupy your mind and body. As a former patient stated to me, "I really enjoy doing physical therapy because it helps with my anxiety and makes me feel so much stronger!"
Looking forward to sharing in your journey toward recovery,
Michelle Laging PT, DPT