Sara Nieder, LCSW & Jacqueline Grant, LCSW
Monday, July 24, 2017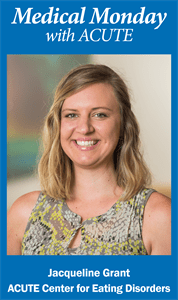 While treatment on ACUTE largely focuses on medical stabilization, behavioral health plays an integral part in the care plan while patients are here. The ACUTE social workers are key players on the team and are assigned as primary providers to patients upon admission. Social work remains connected to the patient from admission to discharge and becomes a sort of hub for the patient plan of care while at ACUTE and for their next steps in treatment. The first few meetings with social work focus on building a relationship that will help to educate the team on what ways a patient feels most supported, and who the key members of their "home team" are. Through partnering with both professional and personal supports, social work strives to provide a comprehensive plan that will most engage patients and help set them up for success in their next steps.
We acknowledge and respect the courage it takes for an individual to make the first move toward recovery by coming to ACUTE. As recovery is often not a linear process, we know there can be a multitude of feelings and stressors attached to entering our level of care. The Social Work team at ACUTE helps support patient goals both during their stay and through facilitating efforts toward the next steps in their recovery process. Through learning what motivates a person toward recovery, social work can provide encouragement during the tough moments and provide a reminder of the incredible efforts made by the patient while at ACUTE.
It is typically our highest recommendation that patients step down through the levels of care which are designed to ease patients through the treatment process and integrate their recovery into everyday life. The levels of care following medical stabilization on ACUTE are behaviorally focused and provide comprehensive treatment for patients to further develop life skills and coping strategies to help live life without the eating disorder.
Social Work begins planning for transition to next step upon admission by learning about the patient, their hope for next steps, and what structures the patient feels will best support their recovery goals. This includes working closely with ACUTE medical providers to learn more about each patient's individual treatment needs and projected length of stay on ACUTE. Programs are provided estimates early on in the patient stay and as a patient gets closer to discharge ready, programs are provided multiple updates weekly. Social work provides timely and consistent updates to the next step program to ensure the patient is able to admit as soon as they are determined to be safe to discharge from ACUTE.
Following a stay at ACUTE, the majority of our patients transition to Inpatient or Residential treatment. At this point, they require less acute medical intervention and will benefit from a 24 hour setting to support their continued behavioral needs. They receive support before, during and after meals and have a team that helps identify goals of recovery and put a plan of care together. This level of care is intended to meet patients' emotional, cognitive, and behavioral needs as they progress towards recovery.
The next level of care, Partial hospitalization, provides structure throughout the day and may have supported overnight accommodations. This level of care provides behavioral health support and structure for day programming and demands a bit more accountability from the patient in their non-program time. This level of care is sometimes accessed if the partner program feels they can provide a safe environment for the patient and is determined to meet the patient needs to support their goals; however, most ACUTE patients transition to PHP only after completing residential treatment.. We find that when patients transition to the level of care recommended by the team, they are more likely to obtain recovery goals.
The foundation ACUTE provides offers an opportunity toward next steps in the recovery journey. Once medically stable, individuals leave ACUTE more prepared to engage in these next steps. Patients have shared they often feel more confidence and more cognitively ready to engage in meaningful work due to the efforts started here on ACUTE. Social work is proud to help guide this process and see the strength our patients have in their commitment to recovery.