Elizabeth Pexton, M.Div., BCC
Tuesday, September 26, 2017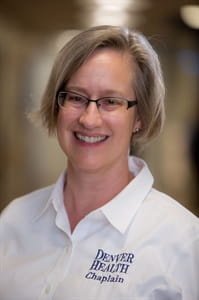 Spiritual care services at the ACUTE Center for Eating Disorders provides a non-medical treatment in a very specific, intense medical treatment process. As a chaplain, I see patients at their request or from the request of family or staff. Chaplains "treat" the spiritual dimensions of suffering and healing and are an integrated part of the care team.
I believe all humans are spiritual because we have emotions, and we seek meaning and hope. When people suffer from an eating disorder, their mind, body and spirit are all suffering. The following are a few of the key components chaplains bring to help people with eating disorders: through spiritual beliefs, spiritual presence including listening, and emotional support and release.
Spiritual Beliefs
Initially, one of the first components clarified upon admission to treatment is if a person has a spiritual or religious tradition. Along with spiritual traditions and beliefs, many patients come with spiritual distress. As professional chaplains, we strive to be very respectful of a person's spiritual background and needs as we help them with spiritual distress. A common question I hear from patients with eating disorders, especially for those who believe in God (no matter what religion or faith background), is "Why is God punishing me?" That is a hard statement and one that illustrates the depth of the person's spiritual pain. We may begin by exploring a person's image of God, and would their God be punishing in this way. It may be a way of looking at who is in control. We may also reframe this view that it is not punishment, but as my colleague Rev. Ed Hommes states, it is part of their journey. Would the people seeking treatment allow the chaplain and the medical team to journey together towards healing?
Spiritual Presence
Chaplains do not decide or make decisions about the medical side of eating disorder treatment. Sometimes, that boundary allows patients to be freer in our conversations together. Spiritual presence allows a person to not be alone, a common comment from people with eating disorders. Also, spiritual presence gives people an opportunity to be heard, listened to, and the chaplain tries to understand the person and offer support. Pastoral care texts have been written extensively on the importance of listening. Active listening was described by J.L. Cedarleaf as "…quiet question, perceptive comment, or sensitive story, portrays hearing beyond the overt words in order to engage the other in a deeper level of communicative relationship." It is through listening with compassion and care, that a person feels heard. It also reminds the person that they are not alone.
Emotional Support and Release
Intertwined with spiritual beliefs and spiritual presence, chaplains provide emotional support to persons with eating disorders. Deep feelings of aloneness, imperfection, the belief that others do not understand the person, and that no one could love them are very painful feelings. Sometimes, there are stories people share, specific memories of these painful feelings. The chaplain is present with the person who shares their experience. The chaplain gives compassion and brings assurance that they are not alone. Sometimes, people cry the whole conversation, and that's okay. Chaplains may confront compassionately to find deeper meaning. Chaplains also celebrate with people when they have discovered something new in themselves that brings healing. Medical personnel have written about "negative" feelings which are not expressed openly can become trapped within the body at a cellular level and thus contribute to physical pain. The release of emotions, is thus important to healing.
There are other components to spiritual care in eating disorder treatment. A few include talking with patients about identity, control, denial, mortality, dreams and hopes. Chaplains pray with people and do guided meditations. In all these things, spiritual care providers offer the opportunity to integrate aspects of people's lives, an attempt to connect holistically things that patients keep compartmentalized. Interactions with patients depend on their openness to engage and how ill they are.
In his powerful book, Man's Search for Meaning, Viktor E. Frankl writes of his experience in concentration camps in World War II. In the forward, it is written, "Forces beyond your control can take away everything you possess except one thing, your freedom to choose how you will respond to the situation. You cannot control what happens to you in life, but you can always control what you feel and do about what happens to you. …[One can] cure the soul by leading it to find meaning in life."
Through spiritual belief systems, through spiritual support, and through emotional support and release, chaplains bring compassionate care, support, rejuvenation and hope. Spiritual support provides guidance to finding meaning and healing. Freedom awaits.