Monday, April 24, 2017
Team Based Care at its Best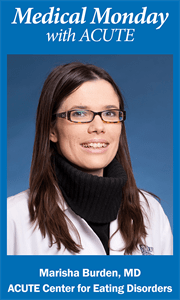 Over the years doctors have studied and searched for the best way to provide care when people are in the hospital. At ACUTE Center for Eating Disorders we have taken those very ideas, contributed to those ideas, implemented them and added to them to provide the best care possible to our patients.
Going back as far as 2009 Denver Health has strived to successfully have teams that were based by hospital unit (all team members working on the same floor) in order to help doctors and advanced practice providers, nurses, and the other necessary services work together and communicate. At hospitals around the country, it is not atypical for doctors who are taking care of patients to have the majority of their patients on multiple floors where it can make team based care and communication difficult. The entire ACUTE team is based on one floor to facilitate collaboration and communication with our team and our patients.
Our teams communicate daily to ensure that our patients have excellent and coordinated care. Our doctors, nurses, certified nurse assistants, psychologists, social workers, dieticians, physical therapists and occupational therapists are just a few examples of the people who work together to ensure our patients' care is well-rounded and that our patients are in the very center of everything we do. In addition to our team communication, at Denver Health we have strived to tailor how our patients experience their care to the individual patient taking into account patient preferences and values. We have a team of doctors who have interviewed hundreds of patients at Denver Health in order to better understand how to provide the best care possible or what I like to call the "care around the care".
Our model for doctor staffing is also unique and innovative. All of our doctors are board certified internal medicine physicians and are experts in the care of patients who are hospitalized (also known by the term "hospitalist"). Our group of doctors has been recognized by a national task force (The Society of Hospital Medicine and Society of General Internal Medicine Academic Hospitalist Task Force) for being one of the top academic groups in the country. Many of our doctors serve on committees at the national level and also present their work nationally. Because of the specialized nature of the work on ACUTE, we have a small group of doctors who are dedicated to the ACUTE team. Our doctors who work on ACUTE are advancing the knowledge on how to best care for patients hospitalized with eating disorders and have developed best practices that we use daily to ensure our patients receive not only the best care but the safest care. Our hospitalists avidly publish their work on patient experience, the flow of patients in and out of the hospital, doctor communication, and have conducted multiple quality improvement initiatives to perfect how we deliver care in the hospital.
Finally, as experts in the care of hospitalized patients we know the importance of the transition to care after ACUTE. Before arrival and throughout the hospital stay, our dedicated social work team is working with our patients and care team to determine the best care transition plan such that the communication and transition are smooth and seamless. We are excited about the work we do on ACUTE and at Denver Health and take great pride in that work. Our passion is amazing care with our patients at the center of everything we do.