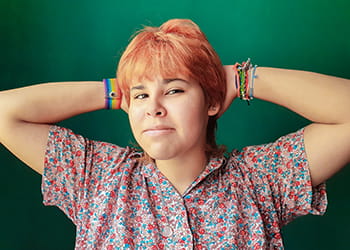 Denver Health's LGBTQ+ Health Services offers open and affirming health care to LGBTQ+ patients of all ages, family structures, and communities.
We recognize the unique challenges faced by LGBTQ+ youth and are dedicated to providing trauma informed care and support as you navigate the Denver Health system.
Make A Pediatric Appointment With Our LGBTQ+ Health Services Navigators:
303-602-5699
Our pediatric providers who are trained in providing gender affirming care to transgender and nonbinary youth, including puberty blockers and hormone therapy, are located at five of our community health centers, select school-based health centers and on Denver Health's main campus.
Denver Health's pediatric providers are available for primary care and/or gender affirming care. If patients have a primary care provider outside of Denver Health, our pediatric providers can work with that provider and offer gender affirming care. Additional pediatric providers for LGBQ+ youth also provide care throughout our system.
Patient Navigators: Dedicated to Assisting LGBTQ+ Patients, Families, and Communities
Navigating the health care system can be overwhelming and difficult. Our patient navigators are dedicated to ensuring that LGBTQ+ youth, their families, and support systems are assisted through their health care journey. LGBTQ+ youth will be connected with welcoming and affirming pediatric providers for all of their health care needs.
If you would like additional support, patient navigators are here to attend medical appointments with you and will continue to be your advocates as you become familiar with our health care system. Please contact one of our dedicated LGBTQ+ patient navigators at 303-602-5699.
To learn more about Denver Health's LGBTQ+ Health Services, please read our FAQ document or email LGBTadmin@dhha.org.
Pediatric health care services for LGBTQ+ youth include:
Puberty Blockers (injections and implants available, with parental/guardian consent)
Gender Affirming Hormone Therapy (with parental/guardian consent)
Gender affirming surgery navigation
Information on attaining gender affirming devices
Preventative health screenings
Management of chronic conditions
Behavioral Health Care including substance use treatment, care for eating disorders and psychiatric evaluation if needed
Sexual health services including confidential sexually transmitted infection testing/treatment and contraception (birth control)
Same- day pre-exposure prophylaxis (PrEP)
Dental services
Eye care
Gender Affirming Surgeries for Transgender and Nonbinary Youth
As of July 2022, our plastic surgeons offer chest reconstruction (mastectomy) to youth ages 16 and older. We offer other gender affirming surgeries (hysterectomy, vaginoplasty, orchiectomy, and tracheal shaves) to patients ages 18 and older. These age cutoffs may change with updated WPATH guidelines so please contact our Patient Advocate at 303-602-5699 with questions, or you may complete a surgical interest form here.