Why Do I March in Pride?
June 14, 2019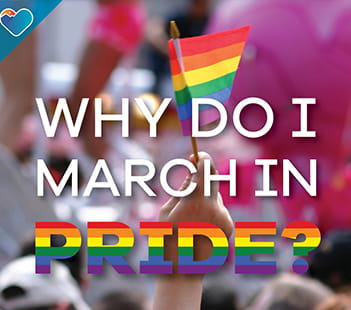 Denver Health is proud to provide
affirming and sensitive health care for the LGBTQ community
at all of our locations from a network of specially-trained, LGBTQ-friendly physicians and providers. Caring for the LGBTQ patient population also includes showing support as an organization for LGBTQ people at community events, including
Denver PrideFest
every June. For Pride this year, we asked our employees who march at the event to answer the question, "Why Do I March in Pride?" Here are just a few of the responses:
Rose Andrews, Patient Access Specialist:
"I have been participating in the PrideFest Parade and volunteering for the Denver Health booth at PrideFest for about 7-8 years. I volunteer because I am proud to represent Denver Health, the organization that I have not only worked for for about 12 years, but also, the hospital I was born in and where I have received all my health care since birth. This is the best way for me to give back to my community and to participate in the most fun festival Denver has to offer!"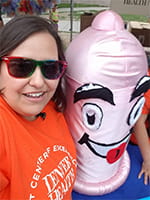 Alex John Boyle, Emergency Department Tech:
"As a seasoned veteran of PrideFest, it's hard to overlook the fact that an individual's health can be socially determined by the community in which an individual resides. Coming together as a community for such an event is important to me because it creates a sense of belonging which fosters growth for all in the community – for those who are out, those who are not and those who don't identify on the spectrum. In doing so, it's an event about giving hope to people who may feel that life will never get better. It's a special time to come together and recognize our differences as unique and even weird. Mental health is real. Being gay doesn't define who you are or the success one will achieve in life. It's important to come together and share these experiences with others."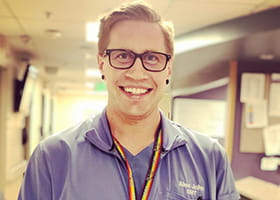 Tim Black, RN:
"I have been attending Denver PrideFest for 15 years. When I first moved to Denver, I went to Pride and was so shocked that there was such a supportive community. I moved here from Louisville, Kentucky, where there was only a small picnic at a park attended by about 50 people. I felt so free and supported being in Denver, even though I didn't really have a support system here. Over the years pride meant different things to me. In my early 20s, it was to hangout with friends and have a good time. I started to volunteer in 2007 for the Center, and I was lucky enough to assist with the main stage entertainment for 11 years. During this time, I experienced a lot of amazing personal growth and a sense of community and passion for activism."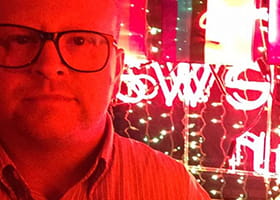 Tess Kilwein, Psychology Resident:
"I've been marching in PrideFest since I started training to become a clinical psychologist. I march because I'm doing a disservice to my LGBT+ patients if my advocacy doesn't extend beyond the therapy office. To me, working at an LGBTQ+ Center of Excellence means more than using appropriate pronouns in therapy and providing letters of support for gender confirmation surgeries. It means acknowledging and actively marching/fighting/educating/voting against the stigma, discrimination and lack of adequate health care faced by the LGBT+ community each day. I march for my past, current and future patients. I march for every patient that didn't feel welcomed or affirmed in an office that looks like mine."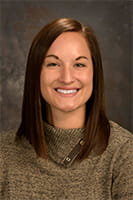 Libby Booth, Project Specialist:
"My partner and I marched in PrideFest for the first time last year, and we were glad we did. We both care deeply about the LGBTQ+ community and have loved ones personally impacted by LGBTQ+ issues. Even if we didn't have friends and family affected, it would be important for us to participate because we believe in equity and social justice for all. We are proud of the reputation Denver Health has garnered because of their work to support individuals within these (and all) communities, so of course we wanted to represent Denver Health at PrideFest!"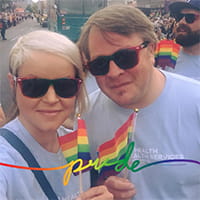 Briana Simpkins, RN:
"I grew up in a home where everyone was treated the same. My mom never showed any difference toward anyone. People were people. All people needed love. All people needed someone who showed they cared. All people needed other people. As I grew up, I realized that that was not the way everyone thought, and I never understood why. Why deny someone love because they are not like you? This world would be boring if we were all the same. So I went to my first PrideFest when I was 14 years old to celebrate people! I love people! And people at Pride loved me! I have been going for 20+ years and now that I work for this amazing hospital that recognizes and celebrates individuality, I get to march. And not only do I get to march and celebrate my indiviuality, I march with my mom who taught me to love everyone."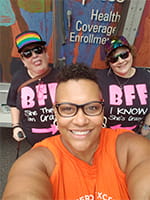 Arthur Pliaconis, Denver Health Paramedic Division:
"As a member of the LGBTQ+ community, marching in PrideFest has a dual purpose. Not only do I feel proud to represent my organization who supports this community so boldly, but also to show pride in myself, in who I am as an individual. We are lucky that LGBTQ+ acceptance is where it is today, and we need to keep that energy going. As a paramedic, I also want to reflect that there are emergency responders who understand the struggles of our LGBTQ+ patients, and I want to inspire pride in them as individuals, and in others who may be in public safety and uncomfortable coming out as LGBTQ+. I am proud of myself, my organization, and my colleagues in their united support in this equality endeavor."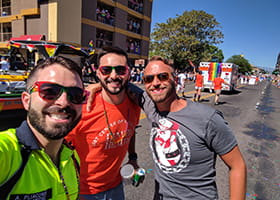 Rich Bailey, EPIC Analyst:
"I've had the pleasure of attending Denver PrideFest for five years now, but attended my first PrideFest in Pittsburgh, Pennsylvania when I was 16. As a teen in a rural part of the country, PrideFest was the only time of the year where I felt like I had a place I belonged with like-minded people and that it was ok to be myself. This still rings true today and I am overwhelmed by the size of the community engagement and support in Denver. I have seen the LGBTQ community persevere, celebrate, educate and evolve in such a wonderful way. It makes me so proud to be part of the LGBTQ community, the Denver community and grateful to work for a supportive organization in Denver Health."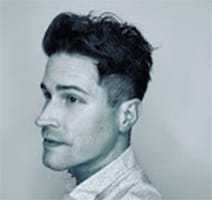 Samantha Buck, Medical Technologist:
"I have been going to PrideFest for the past 8 years! I love going to a safe space to celebrate my community, while also seeing all the businesses and non-LGBTQ+ community members supporting us as allies. It warms my heart to know Denver PrideFest is one of the largest in the nation and that everyone can just be themselves at the event all weekend long. I have always loved watching the parade, especially seeing the Rainbow condoms. It wasn't until I worked at Denver Health that I found out we are the awesome, inclusive company promoting safe sex who gets everyone all riled up about being proud to be a part of the LGBTQ+ community at the Pride Parade. Last year, I had the privilege to achieve a dream of mine; I got to be one of the Denver Health rainbow condoms in the pride parade! It was the best part of my weekend, and I made sure all my friends and family were there on the sidelines cheering me on! I hope to continue to walk proud with Denver Health in the parade for years to come – and hopefully get to be a condom again."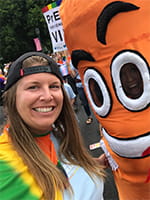 Be sure to stop by Denver Health's booth at Denver PrideFest, June 15-16, 2019, to learn more about Denver Health's LGBTQ health services,
Denver Public Health's
services and for a chance to win prizes!