We See You And We "March" With You in Virtual Pride 2020
June 18, 2020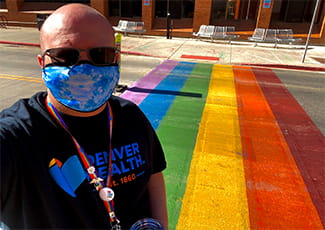 June is Pride month and at Denver Health we are proud to stand with our patients and employees who identify as members of the LGBTQ+ community. Denver Health has long supported our lesbian, gay, bisexual, transgender and queer patients by providing them with a safe place to go to get their health care.

The LGBTQ+ Center of Excellence at Denver Health offers an affirming choice for taking care of your health care needs, from family and internal medicine to mental health and pediatric services.
Denver Health Celebrates Pride Month
In celebration of Pride month this year, Denver Health is celebrating by repainting our crosswalks on the main campus in rainbow colors and with a special light display on the Pav. A building on the main hospital campus during Pride weekend. Many of our staff members, including Denver Health nurse Tim Black, RN, took photos standing next to one of those colorful crosswalks.

Denver Health is also joining with the virtual pride event, happening online this year, to show that we see you and we "march" with you. Each year, we ask our employees to answer the question, "Why do I march in Pride?" and despite the COVID-19 restrictions this year, the reasons for "marching" are stronger than ever.
"I march with Denver Health because everyone deserves to feel safe and respected when accessing healthcare," said Andrew Miller, Denver Health workforce development specialist.
Physical therapist Shereen Sairafi said, "I march so that all of our patients can be seen and heard."
"I march Virtual Pride because it matters," was the simple answer from physician assistant Paige LeBlanc.
Psychology Postdoc Rachel Narr, Ph.D. said, "I'm marching Virtual Pride because representation is important in the medical community."
"I march because I was raised to love," said registered nurse Briana Simpkins.
Project specialist Libby Booth said her reason to march is, "because I believe that all humans deserve the same rights and opportunities regardless of how they identify or who they love."
"I march for visibility," said physical therapist Krystyna Holland.
Nursing clinical coordinator Angela Montgomery said, "I'm proud of the community I'm a part of and very proud of my family."
"I'm marching in Virtual Pride because I respect, love and support our community," said nurse educator Mary Johnson, RN.
Denver Health digital marketing strategist Liz Bearden summed up her reason for marching in virtual pride by baking a cake with the words "For Equality" in big and bold rainbow colors.
Go to
Denver Health's Facebook page and comment in the Pride Lights Viewing event
with #DHPride to tell us why you march in virtual pride.