Denver Health Celebrates Pride 2021
June 03, 2021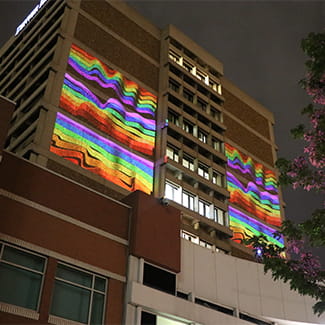 June is Pride Month and Denver Health is proud to recognize, celebrate, support and stand with our LGBTQ+ patients and employees who are such a vital and vibrant part of our community.
Denver Health has long supported our lesbian, gay, bisexual, transgender and queer patients by providing them with a safe place to go to get their health care – from family and internal medicine, to mental health and pediatric services. Through our
LGBTQ+ Health Services
, we make sure that every LGBTQ+ person is met with open, excellent, welcoming and affirming care from a team of LGBTQ+ friendly doctors and staff.
For the second year in a row, Denver Health is joining
Denver's Virtual Pride
event, happening June 26-27, with a virtual parade online again this year on Sunday, June 27, at 9:30 a.m., to show that we "see" you and we virtually march with you. In addition to special
informative health care events for our patients
happening throughout this month and year-round, we are also lighting up Pavilion A on the evenings of June 25-27 (each day will feature a different color from the transgender flag (blue, pink and white)) and freshening up the rainbow-colored crosswalks on Denver Health's main campus with a new coat of paint!
This year, we asked Denver Health staff members to join us in sharing both why they choose to "march" in Pride as well as how they are celebrating and marking the month, without the traditional large, outdoor celebration.
"I think it's incredibly important for us to be a part of our community and to represent that community in a very visible way," said Selena Frederick, who works in Denver Health's Purchasing Department.
"I'm a health educator and it's important for me as a queer person of color to be representing the LGBTQ+ community at the staff level," said Lisha Amin, a health educator with Denver Health's
School-based Health Centers
.
Jordan Hauger, a registered nurse with the
ACUTE Center for Eating Disorders
at Denver Health told us, "I march in Pride because I come from a state where things are not as always welcoming as they are in Colorado."
Dana Golich, who is also a registered nurse with ACUTE, said she will take part in Pride this year by, "presenting on how eating disorders affect the LGBTQ+ community."
Jenny Scanlon who works in Denver Public Health's
Sexual Health Clinic
said she marches in Pride for one simple, but important reason. "I am happy and proud to be queer!"
"I'll be celebrating Pride with a group of close friends, probably starting out with a brunch," said Mashawn Moore, who also works in the Sexual Health Clinic.
"We're able to love who we want to love and be who we want to be without fear," Jesse Chavez-Van De Hey, a disease intervention clinical specialist with Denver Public Health, reflected on the meaning of the celebration.
"I celebrate through having conversations with my children and my friends," said Ann Boyer, Denver Health's Chief Medical Information Officer.
Tara Rynders, a clinical nurse educator, said she is celebrating Pride by dancing. "I march in Pride for freedom, freedom to be in our bodies, freedom to be who we are and freedom to dance."
A group of staff from Denver Health's
cardiology department
wanted to send a simple message for why they celebrate. "All you need is love."
Jean, a Denver Health
chaplain
, said her celebration recognizes that she believes, "we are all God's children and we are family."
"I march in Pride to leave behind a more accepting culture for the next generation," said Denver Health digital marketing manager Alex Lopez, as he cradled his son, Rami.
"We are celebrating our family," said Leslie Newton, RN, a
Denver Health NurseLine
supervisor, as she stood with her wife, Nicole and baby, Avery.
"I am celebrating Pride by making a playlist and sharing that with all my friends," said Julio Martinez Coronado, Denver Health marketing campaigns manager.
"I want to say thank you to everybody for being willing to stand up and support ALL of the people who surround us," said Denver Health CEO Robin D. Wittenstein, Ed.D., FACHE.
"I march in Pride for my friends, my family and my colleagues," said Denver Health project specialist Victoria Myers.
"I'm joining my colleagues and friends to come together to show support here at Denver Health," echoed Sandy, a Denver Health chaplain.
Jess Tveit, a
RISE
therapeutic case worker said her celebration of Pride will be about, "just being in the community, talking about it as I can, and showing that I'm speaking up in different spaces."
Kevin Kamis, a
Denver Public Health
researcher wants to send a simple message as well. "Just keep being yourselves and keep loving each other."
"Diversity is what makes us different, what makes us special and what makes us unique. And that's something to be celebrated everywhere in life," said Denver Health chief marketing officer Rob Borland.
The team from Denver Health's LGBTQ+ Health Services sums it up well – we march in pride for YOU.
Happy Pride from Denver Health!
To learn more about Denver Health's LGBTQ+ Health Services, visit DenverHealth.org/LGBTQ or call 303-602-5699 to connect with one of our dedicated patient navigators.