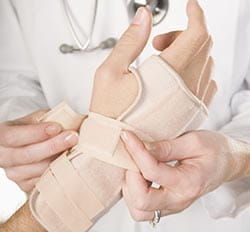 The Center for Occupational Safety and Health (COSH) provides patients with access to specialty services at one convenient location. Rather than having patients go to a specialty clinic appointment at one location, then to a second occupational health follow-up appointment at another location, COSH has incorporated specialty clinics during specific days/times specifically for workers compensation cases.
Currently, the following specialty clinics are operated at COSH for workers compensation cases:
Orthopedic Hand Clinic

Doctors from Denver Health's Center for Complex Fractures and Limb Restoration provide follow-up care for orthopedic hand injuries at the COSH location for workers compensation patients.

Rehabilitation Management

Dr. Susan Ladley-O'Brien provides rehabilitation management care for workers compensation cases.

Electromyography

This procedure evaluates muscle and nerve damage and is often done outside the clinic, but patients can receive this diagnostic service through this specialty clinic.

Surgery

Severely injured employees who required surgery can receive their follow-up care and appointments at the COSH clinic.

Chiropractic Care

Dr. Mark Testa provides chiropractic care and acupuncture services for workers' compensation cases.